Why did he reject these NBA offers from everyone? Was it done out of devotion to Duke? Nope. The simple answer is he was too busy making a bloody fortune at Duke!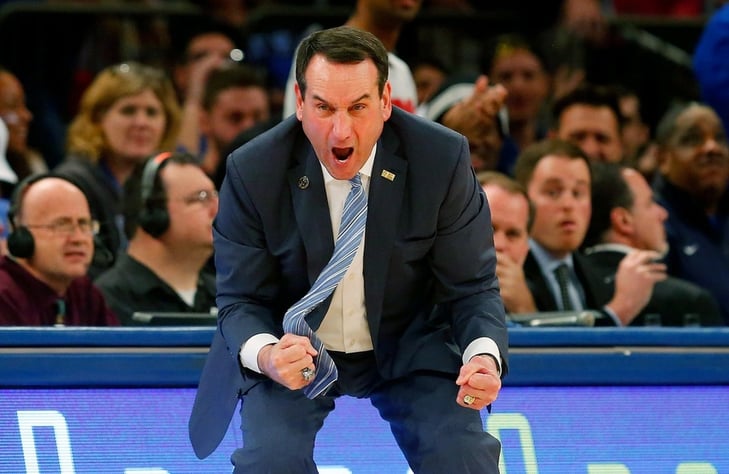 (Photo by Jim McIsaac/Getty Images )
Early Life and Career
Before being released from the Army in 1974, Mike served in the Army for a short while, rising to the rank of Captain. Upon leaving the Army, Mike went to work as an assistant coach for Bobby Knight, who by then was three years into what would be a 30-year career as the head coach of the Indiana Hoosiers.
Duke University

Two brief Duke University anecdotes worth sharing on the internet:
1) Duke was known as Trinity College before 1924. After receiving a sizable bequest from tobacco mogul James Buchanan Duke, the school changed its name. From humble beginnings, James eventually became known as the "John D. Rockefeller of tobacco." He completed all of this before reaching 30. Duke expanded beyond cigarettes to include cigars, snuff, and stogies after becoming prosperous and buying out dozens of competitors. Everything was combined under his American Tobacco Company.
James Buchanan Duke had a net worth of about $200 million at the time of his passing in 1925. That is equivalent to about $3 billion in today's money. And while that may not seem like all that much from the lenses of our modern point of view, when you take into account Duke's personal fortune as a percentage of GDP at the time, his fortune was the equivalent of someone today being worth hundreds of billions of dollars. He undoubtedly ranks among the top 50 wealthiest Americans of all time.
2) John Buchanan Duke's daughter Doris received the remainder of his wealth, estimated to be worth $100 million. Doris, who was 12 at the time, was immediately dubbed "the richest girl in the world" due to her trust fund's estimated current value of $1.5 billion. Doris traveled to Hawaii where she spent years living in relative solitude and even rose to become one of the best female surfers of her time after spending the most of her life being pursued by reporters and people begging for money.
When Doris died in 1993, she left the majority of her fortune to a variety of charities and foundations. She also left her pets a $100,000 trust fund.
After Doris passed away, Chandi Hefner successfully sued the estate on the grounds that she was her adoptive daughter. She was being honest. Chandi was formally adopted by Duke in 1988. What makes that odd? Because Chandi was 32 and Doris was 78 at the time of the adoption. At the time of the adoption Doris reportedly believed Chandi was the reincarnation her only child, a boy named Arden who died decades earlier as an infant. After Chandi declared her intention to wed a bodyguard of Doris, they fought. Chandi ultimately received $65 million from the inheritance after successfully demonstrating that she was Doris' legitimate daughter.
Chandi's sister Claudia wed Nelson Peltz in 1980, a wealthy businessman. Together, Nelson and Claudia are parents to eight kids, including Nicola Peltz, a famous actress. Brooklyn Beckham, the son of David Beckham and Posh Spice, proposed to Nicola in July 2020.
Thank you for indulging my Duke side stories. To Coach K again…
Thanks to Duke's tax releases, we know that in 2000 and 2001 Coach K made a little under $600,000 in total compensation. In 2002, his pay increased to $750k, then to $800k in 2003. In 2005, he officially hit $1.2 million for the first time, cracking the $1 million barrier. His base pay increased to $7.6 million by 2012. In several recent years, his total income has exceeded $9 million.
Between basic pay and bonuses, Coach K made at least the following during the course of the 40 years between 1980 and 2020:
$90 million
Personal recommendations and business agreements are not included in that figure. Coach K was earning $200k per year from a shoe deal in the middle of the 1990s. That was probably three to four times what he was paid as a coach. He likely pads his salary every year with $1-2 million in endorsement and speaking deals.
NBA Offers
At least five NBA coaching positions were declined by Coach K over the years. Five that stood out sufficiently to progress to a point where a real contract was presented. In 2004 he was reportedly offered the head coaching job at the Los Angeles Lakers. A $40 million, five-year offer was made. That would have worked out to $8 million per season, roughly 4X the $2 million-ish base he was making at Duke.
He said no.