TikTok And Instagram Better Watch Their Backs – Su Hua Is One Of The Richest People In China Thanks To The Video Sharing App Kuaishou
Better keep an eye on TikTok's back. Another app for sharing videos is becoming more and more well-known. Over 300 million people utilize Kuaishou every day. When it made its IPO, Kuaishou's CEO, Su Hua, became a multi-billionaire overnight.
Better keep an eye on TikTok's back. There's another app that's gaining in popularity even faster than TikTok was a year ago. Kuaishou is a video-sharing app out of China that currently has 300 million daily active users. In February, the business went public on the Hong Kong Stock Exchange. The corporation formerly had a market value of more than $159 billion.
Su Hua, co-founder and CEO of Kuaishou, overnight became a multibillionaire as a result of the IPO. He currently has a $13 billion net worth. From a post-IPO high of $19 billion, that has decreased.
The 10-year-old company was founded as a GIF sharing app by Cheng Yixiao and Yang Yuanxi. They changed it into a video-sharing platform when they met Hua, and the rest is history.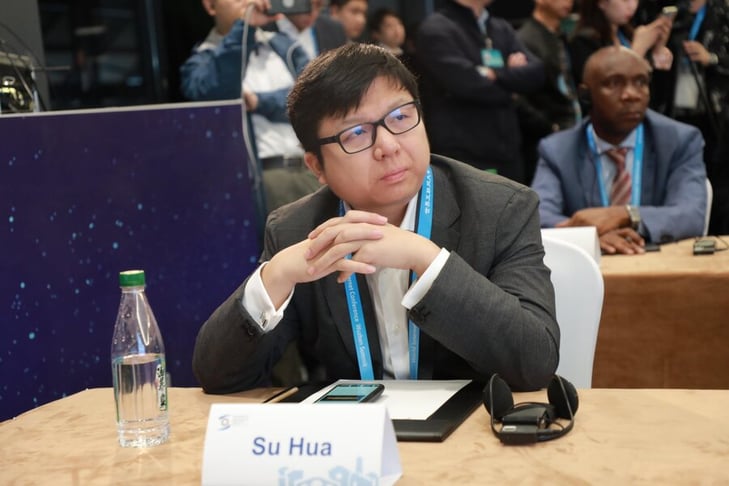 Using Alamy
In the Hunan province of China, Su Hua was born in 1982. At age 12, he began learning how to code. His passion for programming grew during his teen years and he enrolled in Tsinghua University in Beijing, which is basically the Harvard of Asia. He spent more than ten years studying software, receiving his bachelor's, master's, and almost-doctoral degrees.
He learned about Beijing's growing real estate costs while pursuing his Ph.D. and concluded it would be smarter to leave early and start working. Hua was able to work for Google in the US because of his outstanding academic record. He worked for Google for 2.5 years. From there he tried to start an online video advertising firm but had to abandon that project when funding was impossible to get during the 2008 global financial crisis.
He tried 32 more business ventures but failed with every one of them, so he returned to his job as a software developer at Baidu. He worked with Baidu for two years before leaving to create search function technology, which he later sold to Alibaba. He was given a job offer by the world's largest online retailer, but he chose to continue building his own firm instead.
He was shifting the app's focus from celebrities and influencers to regular people — opening it up to a much wider audience. Hua's plan was successful, and Kuaishou quickly rose in popularity on Google Play and the Apple App Store.
More than 300 million people use Kuaishou every day, with users in rural China logging in for an average of more than 85 minutes every day.
It's easy to understand what Kuaishou does: it stores user-created movies and uses recommendation algorithms to display them to other users. Because Kuaishou emphasizes giving everyone a chance to shine rather than showcasing a few prominent users, it differs from other video sites. The application is known as Kwai outside of China.