The Richest Man In The World's Poorest Country Is A $100 Million "Prophet" Who Has Been Arrested Several Times
Shepherd Bushiri, the richest person in Malawi, is a Christian evangelist. This preacher is reputedly worth $150 million in a nation where 75% of the population subsists on less than $1.9 per day. Oh, and he has been detained on several occasions.
The world's poorest nation is Malawi. The nation in southeast Africa is home to 15 million people. Around 74 percent of its citizens make less than $1.90 per day, the poverty threshold. The weather in Malawi is one of the country's primary problems, regularly wreaking havoc on the agriculture industry and making it exceedingly difficult to even grow food. Additionally, the 2019 UNAIDS AIDSinfo report states that 9% of adult Malawians have received an HIV/AIDS diagnosis. According to that same report, Malawi is home to over 1.1 million HIV-positive individuals.
Given these grave facts, you might be surprised to learn that the richest person in Malawi is a preacher. Shepherd Bushiri, a pastor who professes Christianity.
It is almost impossible to establish his exact net worth. Many websites list Shepherd Bushiri's net worth as between $100 and $150 million when you search for "Shepherd Bushiri net worth." If this were to be the case, he would very likely become the richest person in Malawi.
Bushiri has "amassed considerable fortune after creating the Enlightened Christian Gathering Church in South Africa's capital of Pretoria," according to a November 2020 New York Times article titled "Millionaire Preacher Skips Bail in South Africa, Fueling International Dispute."
A other kind of Christian preacher is Bushiri. He's a self-styled "prophet" who also goes by the name "Major 1."
At his church, thousands of people regularly attend services. Over the years, he's reportedly claimed to have cured people of HIV/AIDS, made the blind see, and on at least one occasion his followers claim to have seen him walk on air.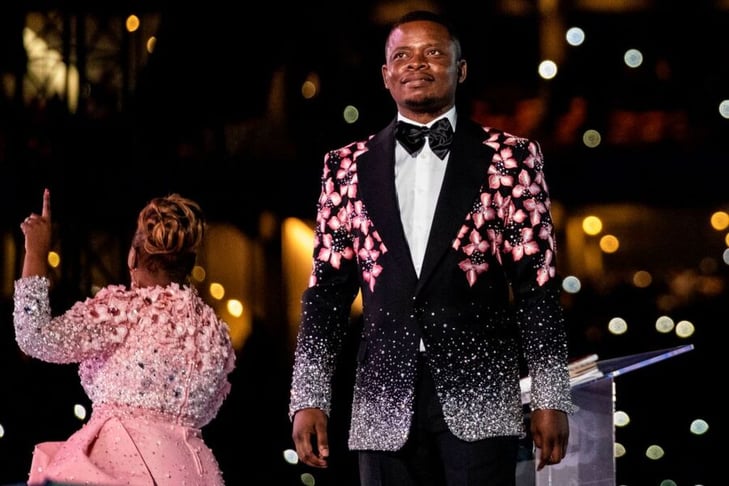 To put his popularity in perspective – he's filled sports stadiums with a capacity of 100,000 with followers. According to reports, he has more than a million fans in South Africa alone.
The Enlightened Christian Gathering's office in Botswana was shut down by authorities after Bushiri asserted he could create money out of thin air. Their financial laws were broken by such assertion. The restriction was only temporary, however, since the courts ultimately decided that Bushiri's church could continue to operate in Botswana as long as he obtained a visa each time he wanted to enter.
Outside of preaching, Bushiri also runs a global investment company called Shepherd Bushiri Investments. The investing firm is involved in a variety of industries, including mining, aviation, and real estate.
Shepherd argues that men of God should be wealthy in order to defend his enormous wealth.
According to the New York Times, during a church service in March 2017, he allegedly promised his followers a 50% return on their investment in a month if they pledged 100,000 South African Rand (roughly equivalent to $6,500 USD). A "commodity investment opportunity," he dubbed it. Many of the people who did invest money with Bushiri apparently still hadn't gotten their money back nearly two years later. It was ultimately revealed that those funds had not, as the congregation had been informed, been put in "gold mines" in Zambia. Instead, it was purportedly the church's bank account that received the money.
On February 1st, 2019, Bushiri and his wife Mary were detained in South Africa on suspicion of fraud and money laundering. The courts tried to confiscate his Gulfstream jet, claiming it had been bought with funds Bushiri acquired illegally. The jet was returned after that failed effort. Bushiri and his wife were also swiftly granted bail releases.
On October 20, 2020, they were arrested again, this time on charges of money laundering, theft, and fraud unrelated to the original charges. They were freed from detention and had their passports cancelled. Nevertheless, they found a means to cross the border into Malawi. It's believed they were smuggled aboard a flight Malawian officials took to South Africa. His arrest is covered by a global warrant.
Bushiri and his wife spoke about the warrant in court in Lilongwe, Malawi's capital, in November 2020. Bushiri and his wife were freed, per the judge's decision. Crowds of admirers chased behind his motorcade as it left the court, cheering and chanting.