The Biggest Book Advances Of All Time
Hillary Clinton has signed a book deal that will put a reported $14 million advance in her bank account. Is that sufficient to qualify as the biggest advance ever?
The unfortunate fact of the issue is that earning a living—let alone a fortune—by producing novels is extremely unusual. The outliers include J.K. Rowling and James Patterson, but for the most part, authors don't receive sizable advances or a lot of sales royalties. Now, things alter if you're a prominent person with a true story to share.
When publishers purchase a book from an author, the advance is not free money; rather, it is valued according to the potential success that the publishers anticipate for the book. An advance is exactly what it sounds like—an it's advance on future revenues. The author might owe the publisher money if a book doesn't sell as well as the advance. With books written by public figures, politicians, and celebrities, the built-in audience and curiosity make publishers more confident that the book will sell so many copies that it will surpass the amount of the advance.
Hillary Clinton made headlines when she agreed to a $14 million (or $15.5 million after inflation) book deal with Simon & Schuster. Her time serving as Secretary of State under Barack Obama was covered in the book Hard Choices. Published in 2014, the book focused on America's role in international diplomacy, her views on the turbulence in the Middle East, relations with China, the ouster and death of Libyan leader Moammar Gadhafi, and the assassination of Osama Bin Laden. She received a $8 million advance for her 2003 book Living History, whereas she received a $14 million advance. For his post-presidential biography My Life, her husband, former President Bill Clinton, was awarded $15 million.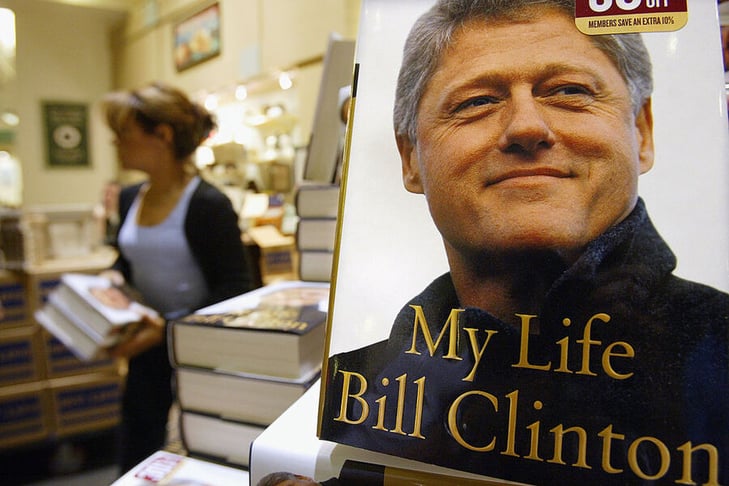 Platt, Spencer/Getty Images
The book advances for the Clinton books were regarded as extremely high at the time. Then Barack and Michelle Obama signed a book deal after his two terms in office were up. With a cumulative advance of $65 million for several publications, that advance shattered all previous records. The book of Barack alone received a $20 million advance.
Does that mean Barack Obama earned the biggest book advance ever? Almost, but technically NO.
Bill Clinton made $15 million for My Life in 2001. When taking into account inflation, $15 million in 2001 is the same as $22 million today.
Of course, authors of all kinds receive significant book advances. Even famous people do. When Demi Moore's eagerly anticipated memoir, Inside Out, was published in 2019, it made some waves. She signed the deal for that book more than five years before it was released and received a $2 million advance at the time.
A celebrity can ensure that a book will have a ready-made readership. For instance, Moore's book debuted at the top of both the Hardcover Nonfiction and Nonfiction Best-Sellers lists published by The New York Times. The 2010 book Bedwetter by comedian Sarah Silverman made $2.5 million (or $3 million when adjusted for inflation). Lena Dunham's 2014 book Not That Kind of Girl: A Young Woman Tells You What She's Learned, earned her a $3.7 million ($4 million today) advance. Bossypants, Tina Fey's 2011 novel, earned $6 million ($6.9 million now). For the 1993 film Seinlanguage, Jerry Seinfeld received a $7 million advance. That is equivalent to $12.5 million in 2020.
If you have a story to tell and you're hoping to get a big book advance and you're not a politician, public figure, or celebrity, it helps to have had something bad happen to you or to have been part of an infamous event in history. Waiting to be Heard, the autobiography by Amanda Knox, who was wrongly charged with murdering her roommate while studying abroad in Italy, was published in 2013 and got a $4 million advance ($4.4 million now). Elizabeth Smart, who was kidnapped from her Utah bedroom, and Michelle Knight, a Cleveland resident who was a victim of the Ariel Castro kidnapping, are two other women who experienced terrible things and authored memoirs. In order to receive a significant book advance, your name or the incident you experienced should be well known.
The Biggest Book Advances Of All Time
#12: Tom Wolfe's "Back to Blood" brought in $7 million.
Number 12: George W. Bush, "Decision Points," $7 million
#11 Jack Welch's "Straight From The Gut" earned $7.1 million.
#10: Keith Richards, who earned $7.7 million for "Life"
#8: JK Rowling's $8 million film "The Casual Vacancy"
Hillary Clinton's "Living History" campaign raised $8 million.
The Age of Turbulence by Alan Greenspan, ranked sixth, earned $8.5 million.
#6: "Crossing the Threshold of Hope" by Pope John Paul II, which cost $8.5 million
Fifth place: Amy Schumer, "The Girl With the Lower Back Tattoo," $9 million
"Living History" by Hillary Clinton cost $14 million.
Summary