The 10 Most Valuable Baseball Teams In The World 2021
The baseball seasons in 2020 and 2021 are, to put it mildly, unusual. That said, the shortened season last year and lack of fans in the stands leading to major decreases in revenue didn't affect the values of the 10 most valuable teams in baseball.
It should come as no surprise that the New York Yankees are by far the most expensive baseball club in the entire globe. The Yankees are now worth $5.25 billion, a 5% increase from the previous year. The New York Yankees have now joined the NBA's New York Knicks and NFL's Dallas Cowboys as sports franchises with a value of $5 billion or more.
The growing popularity of baseball among the general public is another factor driving up the value of MLB teams. The New York Mets were purchased by wealthy hedge fund tycoon Steven Cohen last season for a record $2.42 billion, the most ever paid for a baseball team. The Boston Red Sox situation comes next. The year 2020 was particularly brutal to that team with an operating loss of $70 million, however, the team's parent company, Fenway Sports Group is trying to sell an 11% stake in the team at a $3.4 billion valuation.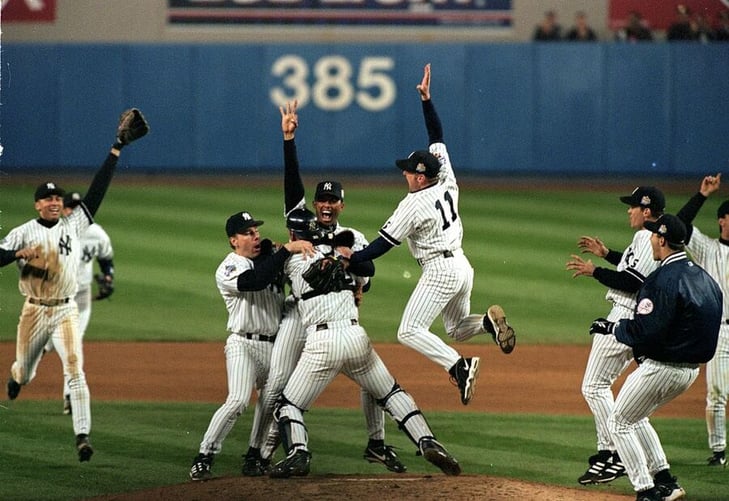 Images by Ezra Shaw/Getty
The 2020 season of course was shortened by the COVID-19 pandemic. Teams only played 60 games throughout the regular 162-game season.
In 2020, the 30 MLB teams collectively suffered losses of $1.8 billion. For comparison, in 2019, the league had a profit of $1.5 billion.
In 2020, MLB's income fell by 65 percent to $3.6 billion. However, there is excellent news on the horizon. New national media deals will kick in next year, which will push the revenue of the league up 19% a year from 2022 to 2028. With the new agreement, ESPN is less committed to broadcasting MLB games. MLB now receives $700 million from ESPN, and will receive $550 million from the new agreement. Fox's agreement will cost $755 million instead of $525 million. The contract with TBS is also being increased from $325 million to $535 million. Overall, this increases the value of MLB's current $1.55 billion national media contract to $1.84 billion, and the league still has inventory it can offer to broadcasters. Maybe they'll break the mold and stream sporting events on YouTube, Hulu, or Amazon Prime. Time will only tell.
Here are the top 10 baseball franchises in the world right now:
St. Louis Cardinals ($2.245 billion) are ranked #7.
3.46 billion dollars: Boston Red Sox