The 10 Highest-Paid Actresses Right Now
This year's top-paid actress list has a somewhat different appearance. The coronavirus pandemic has kept traditional movie theatres from showing many films and that affects the bottom lines of the talent appearing in the films, since their deals typically include some back-end portion of the box office receipts. As a result, this year's list does not include Scarlett Johannsen or Jennifer Lawrence, two regulars on the list of highest-paid actresses. The tiny screen, where their entire salaries are paid upfront, is where half of the women on this list made their living. This includes regular network series, HBO, and streaming services like Netflix.
Sofia Vergara, star of Modern Family, is the highest-paid actress in the world this year. Two other television personalities that made the top 10 this year were Ellen Pompeo and Viola Davis, who appeared on "Grey's Anatomy" and "How to Get Away with Murder," respectively. Elisabeth Moss was also included on the list this year thanks to her performance in the limited series "Handmaid's Tale."
In the 12 months from July 2019 to June 2020, the top 10 highest-paid actresses earned a total $254 million. Comparatively, the top 10 actors earned $545.5 million throughout that time. This is a 20% decrease from the previous year. The majority of the actresses' income over the past year came from streaming and television, with the exception of two. Only Emily Blunt and Angelina Jolie derived the majority of their income from conventional movies. Their combined incomes were $58 million, a decrease from $136.5 million the previous year.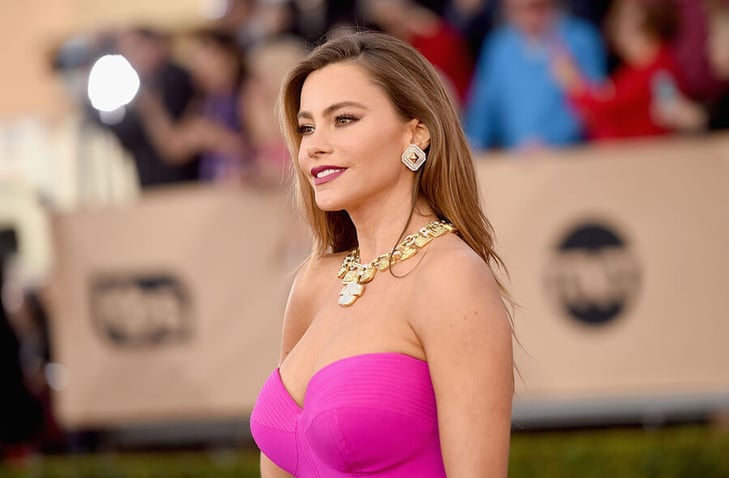 Image by Jason Merritt for Getty
9. Elisabeth Moss, who earned $16 million
Elisabeth Moss is a sensation in Hulu's adaptation of "The Handmaid's Tale." She primarily made it to the top 10 for that reason. Her cut of the proceeds from the unexpected smash "Invisible Man" was also beneficial.
#8. Ellen Pompeo, who earned $19 million
For "Grey's Anatomy," Ellen Pompeo makes approximately $550,000 every episode. She also earns about $6 million a year from her portion of the ABC show's syndication revenue.
Emily Blunt, at #6, earned $22.5 million.
For her part in the upcoming 2021 sequel to "A Quiet Place," Emily Blunt was paid an eight-figure advance. For her part in the July 2021 release "Jungle Cruise," she received a salary in the upper seven figures.
Number 5: Meryl Streep ($24 million)
Meryl Streep makes an appearance in Steven Soderbergh's comedy "Let Them All Talk," which grossed Streep at least $5 million from its sale to HBO Max for $33 million. Her roles in "Little Women" last year and her impending appearance with Nicole Kidman in Ryan Murphy's "The Prom" are where she earned the remaining $19 million.
4. Melissa McCarthy, who earned $25 million
Melissa McCarthy is appearing in two streaming films—one each on Netflix and HBO Max. Her spouse Ben Falcone was the director of both. She is the NBC host of "Little Big Shots" as well.
Gal Gadot, third, earned $31.5 million.
Gal Gadot's paycheck would have been higher, had the pandemic not postponed "Wonder Woman 1984." She made $20 million with her role in "Red Notice" on Netflix. The coronavirus caused a delay in filming of the action-comedy starring Dwayne Johnson and Ryan Reynolds, but it began in mid-September and is scheduled to wrap up in mid-November.
#2: $35.5 million for Angelina Jolie
Angelina Jolie's part in the next Marvel movie "The Eternals" brought in her biggest salary of the past year. November 2021 is the projected release date for the movie.
Number One: Sofia Vergara, $43 million
The stint of Sofia Vergara on "Modern Family" on ABC ended in April. She was paid $500 000 for each episode. She now appears as a judge on "America's Got Talent," for which she earns at least $10 million per season. Vergara also earns substantial money through her endorsement deal with Rooms to Go and her line of jeans at Walmart.