Sorry Kanye! Robert F. Smith Is Back On Top As The Richest Black Person In America
Sorry, Kanye. Your position as the wealthiest black person in America has ended… for the time being. The title has been reclaimed by Robert F. Smith!
Kanye West's $6.6 billion net worth at the time we made the announcement that he had taken the top slot was $100 million more than Robert F. Smith's net worth at Vista Equity Partners.
$9 billion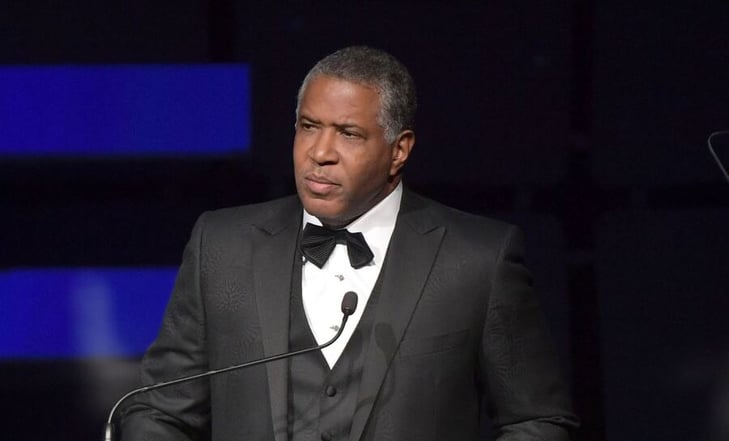 Getty
Who is Robert F. Smith?
On December 1, 1962, Robert F. Smith was born in Denver, Colorado.
As the now-legendary story goes, while still a high school student Smith applied for an internship at Bell Labs that was designed for juniors and seniors in college. He refused to accept "no" as an answer. Over the course of two weeks, he made daily calls to the company's director of human resources. After that, he only called on Mondays for the following five months. His luck changed when a Bell Labs intern who had been hired from M.I.T. failed to arrive, leaving them in a difficult situation. Smith received a call from the HR director offering him a job since she recognized him. He agreed, and that summer he worked on creating a semiconductor reliability test.
Robert left Goldman Sachs in 2000 after six years and founded Vista Equity Partners. Vista has expanded over the past 20 years to manage $75 billion in assets.
Smith's goal at Vista is to find middle-aged software and tech companies with recurring revenue, in contrast to most private equity firms that are frantically searching for the next brand-new hotshot company.
For instance, in 2018, Vista paid $1.9 billion to acquire the business Mindbody. For wellness centers, Mindbody creates cloud-based online scheduling software. If you've signed up for a yoga class recently, you probably used a Mindbody-created app. Classpass manages its class scheduling using a white-labeled variation of Mindbody. All of the health studios that use Mindbody gladly pay a healthy subscription fee to use its services.
As soon as the subscription fees are under Vista's control, the money keeps coming in while Vista takes the software management in-house, streamlining and improving the technology while also cutting costs.
You may remember Robert F. Smith as the billionaire who announced during his commencement speech at Morehouse College in 2019 that he was eliminating the student loan debt of the entire graduating class. That ultimately amounted to a contribution of almost $34 million.
Here is a clip of Robert making that unexpected disclosure. Check out the faces of the people in the background, especially the guy in the bottom left of the screen, at the 18 second mark:
Thank you, Robert F. Smith!
Can you aim for $10 billion, Kanye?