Robinhood's Co-Founders Will Be Paper Multi-Billionaires After Upcoming IPO And Could Make Billions More From A Generous Incentive Plan
Vlad Tenev and Baiju Bhatt, co-founders of Robinhood, stand to gain enormous wealth when their business goes public in the upcoming weeks.
Robinhood, the commission-free stock trading app that made waves during the GameStop shorting debacle, will be a public company at some point in the coming weeks. In order to prepare for an Initial Public Offering that seeks to value the company at $35 billion, the corporation has been working hard to file documents with the SEC.
When the IPO launches, analysts expect the price per share to range between $38 and $42. Vlad Tenev and Baiju Bhatt, the company's co-founders, will each sell $50 million worth of shares as part of the offering. After their IPO cash-out the co-founders will each still own around 8% of the company's equity after the IPO. Vlad and Baiju would each have a theoretical value of about $2.8 billion if Robinhood were to be valued at $35 billion.
But there's more! An exceedingly lucrative, incentive-rich restricted stock award plan was just made public by the SEC, and it positions Vlad and Baiju to make billions of dollars over the coming years. The board of Robinhood authorized grants to Tenev and Bhatt of 22.2 million and 13.3 million restricted shares, respectively. Depending on the share price of the company, such shares will vest over a period of eight years following the IPO. If Tenev and Bhatt achieve the price-based milestones – which have Robinhood reaching $120 to $300 per share – the total incentive-based award could be worth more than $7.5 billion, with $4.7 billion going to Vlad and $2.8 billion to Baiju,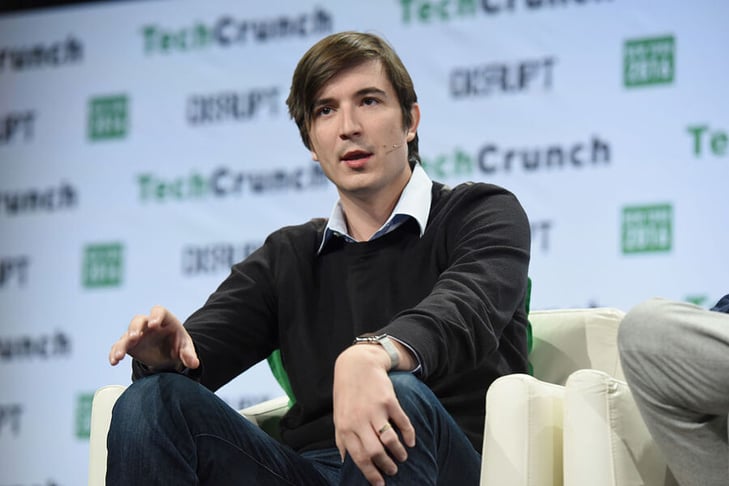 Vladimir Tenev (Image via Getty Images, Noam Galai)
Robinhood's Founding
Tenev and Bhatt met as undergraduates at Stanford in 2005. They founded the high-frequency trading firm Celeris in 2010. They gave up on that less than a year later to start Chronos Research. That company provided banks and trading companies with low-latency software.
Designed for young traders, Robinhood is cost-free, easy to use, and highly addictive. The app was invite-only at first, using the tried and true allure of exclusivity to attract users. They quickly had more than 50,000 persons on the waiting list. The people on the waiting list were informed that if they recommended friends, they could advance.
It was a recipe for explosive expansion. There was a million-person waiting list for Robinhood when they first appeared on the Apple App Store in 2014. All of this without investing any money in marketing.
Success
The app has about $1 billion in fundraising by the fall of 2019, a $7.6 billion value, six million users, and 500 employees.
Controversy
Robinhood has been fined nearly $70 million by FINRA for losing customers' money due to chronic outages during trading hours. The SEC fined Robinhood $65 million for failing to disclose (prior to late 2018) its deals to sell their trade orders to large firms like Two Sigma Securities and Citadel Securities. The business has made significant investments in compliance and customer service infrastructure to address its problems. Due to this, operational costs would soar to $945 million in 2020, a 246 percent increase from 2019. In the most recent quarter alone, the company had operational costs totaling $463.