Poor Little Rich Girl Wants Her Assets Unfrozen So She Can Live Like A Billionaire Again
Isabel dos Santos asserts that the accusations are false and alleges that the courts conspired against her. She claimed that among the false evidence used against her was a counterfeit passport bearing her name and photos but the late Bruce Lee's signature. She wants to unfreeze her assets.
The millionaire daughter of Jose Eduardo dos Santos, the former leader of Angola, is Isabel dos Santos. She amassed her $2 billion wealth entirely as a result of her father giving her profitable businesses to lead and business deals to complete. She has benefited financially from being the politician's daughter while her fellow Angolans live in squalor. One of the most well-known instances of extreme nepotism, kleptocracy, and theft that is now taking place on the world is Isabel dos Santos. Portugal froze her assets back in December as part of the inquiry into whether or not Isabel is responsible for the money laundering and embezzlement allegations against her. Isabel is now requesting the release of her assets and alleging that the Luanda Civil Court and Supreme Court of Angola falsified evidence against her. She insists that the allegations are false and asserts that the courts conspired against her. She claimed that among the false evidence used against her was a counterfeit passport bearing her name and photos but the late Bruce Lee's signature. As of the time of this writing, the courts have not responded to dos Santos' claims.
A criminal inquiry into the theft of money from the state oil corporation, Sonangol, is looking into Isabel dos Santos. When her father was still in office as president of Angola, Isabel was chosen to lead Sonangol, the nation's state-owned oil firm. (After 38 years, he retired in 2017.) While Isabel was at the helm of Sonangol, she allegedly transferred $57 million in November 2017 from Sonangol's accounts to a bank account in Dubai for the company Matter Business Solutions. It just so happens that Isabel's close friend Paula Oliveira is the CEO of that business. Oh, and the bank account at Sonangol from which the funds were sent was a EuroBic account. Dos Santos had 42.5% of EuroBic at the time. The bank is cutting all connections with her and any organizations connected to her. She owns a stock worth roughly $200 million at 42.5%. But there's more! Authorities in Angola are also looking into the transfer of $115 million in consulting payments that she approved while in charge of Sonangol.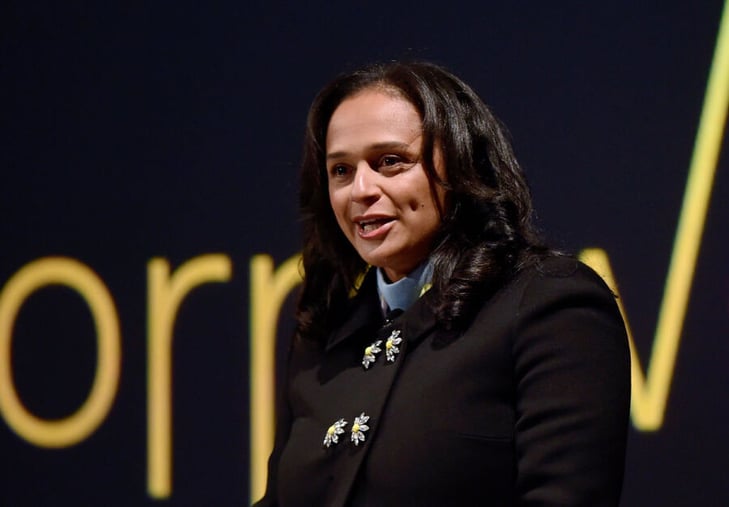 Getty Images, Miguel Riopa
Not so long ago, we gave Isabel dos Santos high acclaim. A female self-made billionaire, she. She belongs to a racial group. She is from a severely underdeveloped country in Africa. She has the greatest wealth in Africa. She had a net worth of $4 billion (it is now $2 billion), which she may or may not have acquired through her labors. Some information has surfaced that has caused us to reconsider how we feel about Isabel. We were aware that she was the daughter of a disgraced and dishonest president, and that nepotism undoubtedly played some role in her triumph. However, it now appears that this was the cause of her success.
This attack, according to Isabel, is motivated by politics. The 700,000 documents that were released, known as the Luanda Leaks, later revealed that dos Santos and her husband had been given permission to purchase a number of priceless public assets through a series of severely dubious transactions. The International Consortium of Investigative Journalists received the Luanda Leaks from the Platform to Protect Whistle-blowers in Africa.
Isabel criticized the stories on Twitter, saying they were "It is a concerted political attack carried out in cooperation with the "Angolan Government," based on fabricated documents and untrue facts. Read 715 thousand documents? Who holds that view? #icij #lies."
Isabel has also called the legal action she is facing a "witch hunt." Her husband, Sindika Dokolo told Radio France International that the Angolan government is wrongfully targeting him and his wife.
"They want to attribute all of the corruption and financial ruin in Angola to us. We are the largest tax payer in Angola and we pay taxes in Europe. More than most others, we have put a lot of work and money into this nation."
It gets worse: Nuno Ribeiro da Cunha, an employee of EuroBic who managed the Sonangol account and was also charged in the case against dos Santos was found dead in Lisbon in January 2020 the day after the charges came out. He reportedly killed himself, according to the authorities.