Phoenix Suns Center Bismack Biyombo Is Donating His Entire Salary To Honor His Late Father
Bismack Biyombo didn't even compete in the NBA six months ago. Now, he's donating his whole salary to help others.
Bismack Biyombo has spent a lot of time traveling throughout the NBA. After he played overseas as a teenager, the Sacramento Kings selected Biyombo as the 7th overall pick in the 2011 NBA Draft. He was promptly sent to the Charlotte Bobcats, who a few years later became the Hornets. In addition to the Charlotte Hornets, Biyombo has also played for the Toronto Raptors and Orlando Magic. He's never averaged more than 7.4 points or 8.0 rebounds in a season, yet Biyombo has made plenty of impact both on and off the court.
He's also traveled internationally, donating millions of dollars to his native country, the Democratic Republic of Congo. He also raised awareness of mental health issues among NBA fans worldwide during the previous offseason.
Biyombo was a free agent following the 2020–21 campaign. However, his father was given the Covid-19 diagnosis before he made a decision about where to sign. After seeing his father in the Congo, Biyombo travelled to Turkey to get him admitted to a medical facility there. The pair spent 45 days together, and while Biyombo's father recovered, Covid caused other health complications, and he died at the age of 61.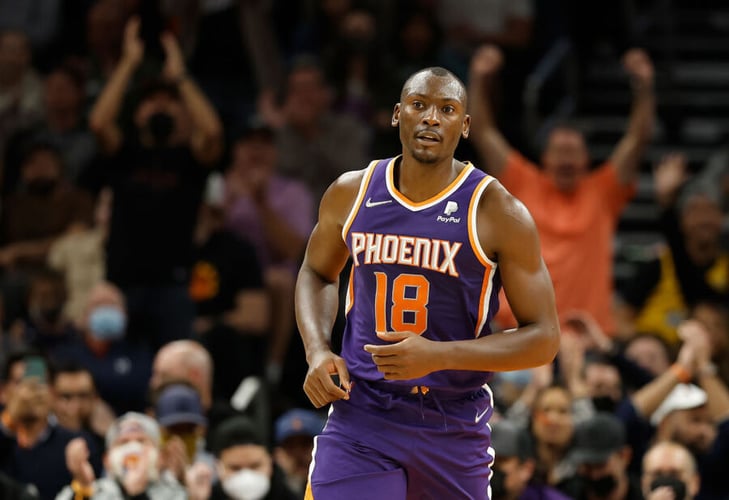 Author: Christian Petersen
As a result of his shock, Biyombo decided against returning to the NBA and instead took some time off to process his loss. He returned at the literal start of the new year, signing a 10-day contract with the Phoenix Suns on January 1, 2022 through the Covid-19 hardship extension. Biyombo performed admirably during those ten days while wearing the number 18 jersey in remembrance of his father, who was born on June 18. He was given a contract by the Suns to play for the remainder of the year.
A few days before the playoffs started, Biyombo made the announcement that he would be giving his whole season's pay, or $1.3 million, to help build a hospital in the Congo in memory of his father.
"I want to be able to give them better conditions so that they can somewhat have hope that their loved ones will be able to live and see another day," Biyombo said. I wanted to give them something that would carry on his name's service to people.
The work Biyombo has done to assist others is not new. Biyombo shipped approximately $1 million worth of medical supplies across the DRC when the pandemic first spread around the globe. The Biyombo Foundation has streamlined procedures, provided staff training, and assisted with hospital renovations.
Now, Biyombo is seeking to help people for generations to come. Certainly, his father would be pleased.