One Guy Supplies Cheese To Domino's, Pizza Hut, Papa John's… And It's Made Him A Multi-Billionaire
Pizza, ah. A delicious, cheesy pizza. It is a perfect food, but pizza just wouldn't be the same without the cheese. It turns out that one man has been providing the cheese for the largest pizza companies in America for many years.
Mike Leprino, the father of James Leprino, emigrated from southern Italy in 1914 at the age of 16. He chose Denver as his new home because he was accustomed to living at a high altitude. He had little education, was unable to read or write in English, and eventually turned to farming. In 1950, after 30 years in the U.S., Mike Leprino Sr. opened a grocery store to sell the produce from his farm. Naturally, Italian food quickly made its way into the shop. Angie, James' sister, would prepare ravioli, mozzarella balls, and fresh ricotta. Leprino is a cheese-loving person.
Large grocery store chains caused the closure of the Leprino's store in 1958. James Leprino thus began his cheese empire with $615. It came down to being in the right industry at the ideal time. The same year that Leprino went into the cheese business, the first Pizza Hut opened in Wichita, Kansas. The first Little Caesars restaurant opened the next year in a Detroit suburb. Dominos began delivering pizzas in Michigan in 1960. Leprino Foods began supplying 200 pounds of mozzarella per week to neighborhood Denver eateries after only two years in operation.
Despite his achievements, Leprino still had much to learn. He had to think out a way to manufacture cheese in large quantities. That was science-related. The issue was that Leprino was managing his business, married, and had two young children and one more on the way. He lacked the time to attend college. As a result, he hired Lester Kielsmeier, a former Wisconsin cheese factory manager. Kielsmeier served in the Air Force during World War II and came home to find that his dad had sold his cheese factory because he thought Lester had been killed in action. With Lester on board, Leprino went to the neighborhood junkyard and purchased a few larger cheese vats to give the appearance that his company was larger than it truly was.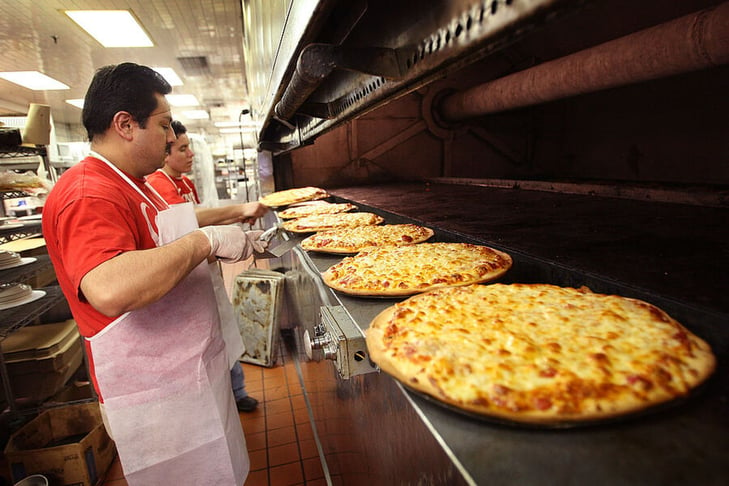 Getty Images/Scott Olson
Leprino experienced a moment of inspiration in 1968. Pizza Hut was looking for a cheese supplier that could help the company reduce their costs while also making portion standardized. Leprino heard that shredding five pound blocks was super time consuming and didn't produce consistent slices of cheese. As a result, Leprino Foods began offering frozen, pre-sliced cheese blocks for sale. For the first time, cheese slices could be added to each pizza quickly and effectively.
He was working hard by the early 1970s to please Pizza Hut. Franchises occasionally took too long to defrost the pre-sliced mozzarella, which caused the cheese to crumble. Since Pizza Hut accounted for 90% of his business by the 1990s, Leprino went back to the drawing board and developed a preservative mist. This mist halted the disintegration but also made another thing clear. The mist could contain flavors like jalapeno in it. Due to this innovation, Leprino Foods is now able to produce two million pounds of cheese every week—a sixteen-fold increase in output.
Just before the pizza craze swept the United States, Leprino entered the cheese business at a favorable time. Location was also in his favor. He was in the middle of the nation. Most of the milk consumed in the US in the 1970s came from Wisconsin and New York. However, milk in California was more affordable due to the state's young and expanding dairy industry. Leprino bound dairy producers in California to long-term contracts with rates that were higher than the going rate but lower than the average rate.
Leprino's cheese business had another breakthrough when a Pizza Hut executive left to go to work for Domino's and took Leprino's cheese with him. Then, Domino's rapidly increased their shop count, rising from 200 in 1978 to 5,000 in 1989. He also owned the Little Caesars company, which in the 1980s saw a 25% annual growth rate in its 3,000 pizza locations. Later, Papa John's engaged Leprino to provide the cheese for their pizzas in 1991.