NCAA Tournament Final Four: Gonzaga Vs. UCLA — How Did Mark Few And Mick Cronin Get Here?
Gonzaga head coach Mark Few will face off against Mick Cronin and the UCLA Bruins. Here is how each coach ended up in his current position.
Here are some details on the game between Houston and Baylor. On the other side of the bracket, we've got a battle between the currently undefeated Gonzaga Bulldogs and the First Four to Final Four UCLA Bruins.
Previously a mid-major darling, the Gonzaga Bulldogs are now a consistent powerhouse. The Bulldogs have had a one-seed in the tournament three times since 2017, and they have at least reached the Elite Eight three times since 2015. They had a perfect 30-0 record going into this year's Final Four.
The UCLA Bruins, their rivals, have historically been collegiate basketball's most successful team. The Bruins have produced a lengthy series of notable NBA talents, from Kareem Abdul-Jabbar and Bill Walton to more modern players like Russell Westbrook, Kevin Love, and Lonzo Ball. They have an NCAA-record 11 championships to their name. However, they nearly didn't qualify for the tournament this year; they entered the First Four as an 11-seed and then proceeded to rip off five straight victories to get to the Final Four.
It should be a great matchup between two teams that play at totally different paces. How did UCLA's Mick Cronin and Gonzaga's Mark Few become the coaches they are today?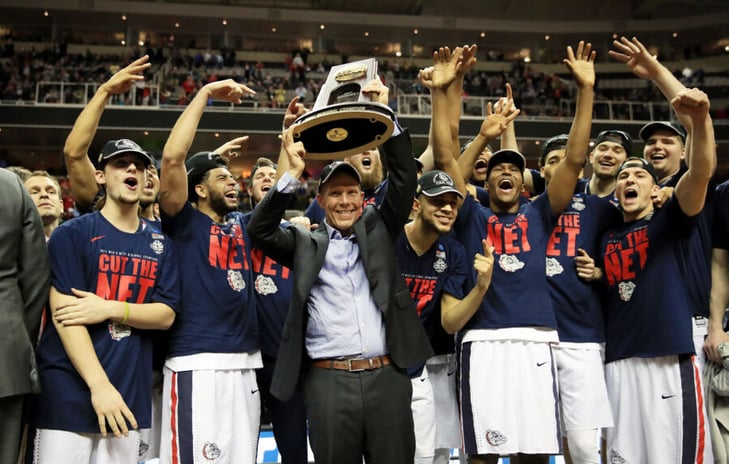 Mark Few, Head Coach Of The Gonzaga Bulldogs
Before he had received his diploma, Few worked as an unpaid part-time assistant at Creswell. He began in 1983 and worked from 1986 to 1988 in a paid capacity. He also worked at basketball camps in Oregon, where he became friends with Dan Monson, then an assistant coach at Gonzaga. Few was welcomed by Monson to the coaching staff in 1989, and in 1990 he was given the opportunity to become a full-time assistant.
In fact, the Zags have finished either first or tied for first in their conference in 20 of 22 seasons since Few took over. In 16 of the 20 seasons, a conference championship was also present.
Mick Cronin, Head Coach Of The UCLA Bruins
Mick Cronin has repeatedly shown us during this NCAA Tournament that coaching runs in his family. His father, Harold "Hep" Cronin won more than 400 games as a high school basketball coach in Cincinnati.
Cronin played basketball at La Salle High School, but he suffered a torn ACL in his junior season, ending his playing career. And he began coaching nearly right away. In 1991, Cronin attended the University of Cincinnati and accompanied his father to a Cincinnati Woodward High School game. Even though he was still in college, the younger Cronin was hired to coach the freshman team and help with the varsity squad.
Cronin held a role at the high school through 1996, amassing a 57-3 record in three seasons as the school's JV coach. The fact that six of Cronin's players went on to play basketball at the Division I level proved that Cronin could be successful at the next level.
Cronin remained at Cincinnati as a video coordinator after earning his degree there in 1996, working as an assistant to Bob Huggins, the team's head coach at the time. Cronin demonstrated a talent development eye and assisted in the recruitment of several NBA Draft picks. Cronin joined Louisville in 2001 as Rick Pitino's assistant head coach and recruiting coordinator.
Cronin has been hired as a head coach for the first time by 2003. He led the Murray State Racers to two NCAA Tournament appearances and was named the 2006 Ohio Valley Conference coach of the year.
It appeared that the Bruins might not even qualify for the NCAA Tournament this year. They struggled in the last stretch, dropping their final four games of the regular season. They were so designated as one of the play-in teams for the tournament's First Four.
Perhaps that losing streak was a bit of foreshadowing, as the Bruins defeated Michigan State, BYU, Abilene Christian, Alabama, and Michigan to reach the Final Four. The school has advanced to the Final Four 19 times, but this is Cronin's first appearance.