Michael Jordan Is Donating $100 Million To Support Education, Social Justice And Racial Equality
In the struggle against racial injustice, Michael Jordan is risking both his financial resources and his reputation. Something he was loathe to do earlier in his career.
The fact that Michael Jordan, who was perhaps the most renowned person on the planet, did not use his position and ability to help numerous social causes was one of the main criticisms of him during his peak professional years. Through his fame, Michael had the potential for unthinkable influence. Because of his connections to organizations like Nike and Gatorade, he also had the ability to have a significant corporate influence.
Jordan is fully cognizant of this critique. In recent years he has started to take minor steps to correct his former lack of action. And he took a HUGE step today. Actually, one hundred million steps.
Some History:
The most notorious instance of Jordan being silent occurred in 1990, when Jesse Helms, a well-known bigot, was facing up against African-American politician Harvey Gantt in North Carolina's Senate race. Jordan, who was raised in North Carolina and went to UNC, chose not to publicly support the candidate. Even Michael's mother pressed him to publicly support Gantt. Instead, Michael privately mailed Gantt a check for $2,000—the highest amount an individual was permitted to make—after deciding that wasn't proper. MJ made a lovely gesture, but it was unquestionably not what Gantt needed most right then.
When questioned about it, Michael quips that he decided against endorsing Gantt because "Republicans buy sneakers, too."
Whatever the context, Michael would be haunted by the remark about Republicans and sneakers for a very long time.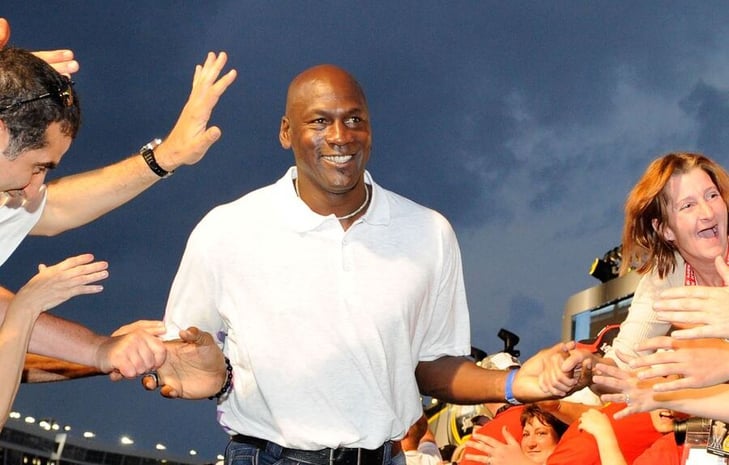 Michael's "primary concern is the demands of corporate America [and that he] is not being a role model [for blacks] in the correct way," NFL player Jim Brown stated a year after the race.
In response to Jim Brown's criticism of him, Michael made the following remarks on the Rodney King beating and racial unrest across the nation:
"Naturally, when events like [the riot] occur and I'm asked to remark on them, people tend to anticipate more from me in terms of my actions, opinions, and voice. Jim Brown is currently calling for more clamor. However, they give the impression that Magic Johnson and I are the only successful black individuals in the country. The Eddie Murphys have vanished. Are there any Arsenio Halls left? These Bill Cosby types, where are they?"
Changing His Ways
Michael, who has a net worth of $2.2 billion, has started to make up for this perceived deficiency in recent years.
Following many shootings of African Americans by police in July 2016, Michael made an announcement and issued a statement titled "I Can No Longer Stay Silent" in which he pledged a $2 million gift.
Here are some salient points from the assertion:
"I have been gravely concerned by the murders of African-Americans at the hands of law enforcement and enraged by the vicious and hateful targeting and killing of police officers, as a proud American, a father who lost his own dad in a terrible act of violence, and a black man…
"… In order to help with that effort, I'm giving $1 million to the NAACP Legal Defense Fund and the Institute for Community-Police Relations of the International Association of Chiefs of Police. Building trust and encouraging best practices in community policing are the main goals of the policy and monitoring work done by the Institute for Community-Police Relations. My contribution to the NAACP Legal Defense Fund, the country's oldest civil rights organization, will help its continued efforts to support changes that will increase community and law enforcement trust and respect. Although I know these contributions alone are not enough to solve the problem, I hope the resources will help both organizations make a positive difference."
$100 Million Donation
Today, Michael took a giant stride toward his objective of making things right. Today Michael and the Jordan Brand announced it will donate $100 million over the next 10 years to "organizations dedicated to supporting ensuring racial equality, social justice and greater access to education."
Michael's manager and spokesperson Estee Portnoy provided the following statement in its entirety: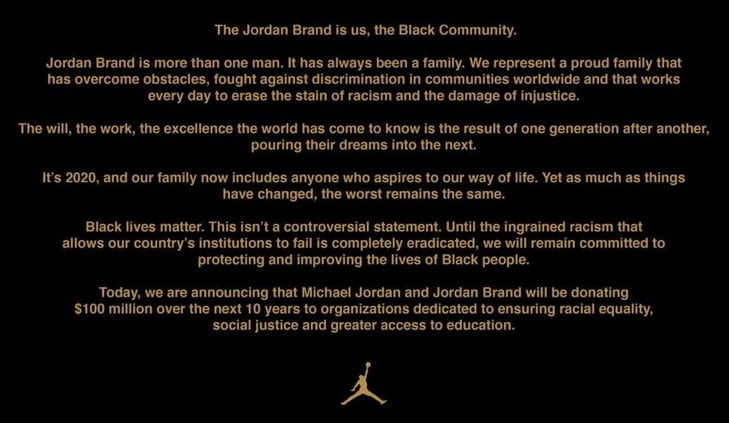 Making a difference can always be done at any time. Perhaps this point in his life is ideal for him to concentrate on social change. He wouldn't have had nearly as much energy or bandwidth when he was playing. If there's one thing I learned from "The Last Dance", it's that once Michael has an enemy, he destroys it completely. Let's all hope that Michael makes racial and social injustice his enemy.