Meet Jared Isaacman – The Billionaire High School Dropout About To Go Into Space
Did you see the television ad that Jared Isaacman, a billionaire, ran during the Super Bowl on Sunday? To publicize "the world's first all-civilian" space voyage, he purchased a 30-second ad. Jared Isaacman: Who is he?
Did you see the television ad that Jared Isaacman, a billionaire, ran during the Super Bowl on Sunday? To publicize "the world's first all-civilian" space voyage, he purchased a 30-second ad. He purchased all four seats on the upcoming Inspiration4 SpaceX flight. Why? Well, at least it's all worthwhile! To fight children cancer, he wants to raise $200 million for St. Jude Children's Research Hospital. He's taken this objective so seriously that he gave the first $100 million himself. The mission is scheduled to launch at the end of 2021 and will go on a SpaceX Dragon rocket. This trip will not only accomplish Isaacman's objective of generating money for St. Jude, but it will also realize a childhood ambition of his about traveling to space.
In the years since the first manned space voyage in 1961, less than 600 people have visited space. Now, in 2021, we're entering a brand-new era of space travel when it becomes accessible for regular people to take commercial journeys (who can afford it). One of the first non-astronauts to visit space will be Jared Isaacman. He will fly on the first of many commercial space journeys along with three other people. Earth will be orbited by the Inspiration4. Who is Jared Isaacman, then?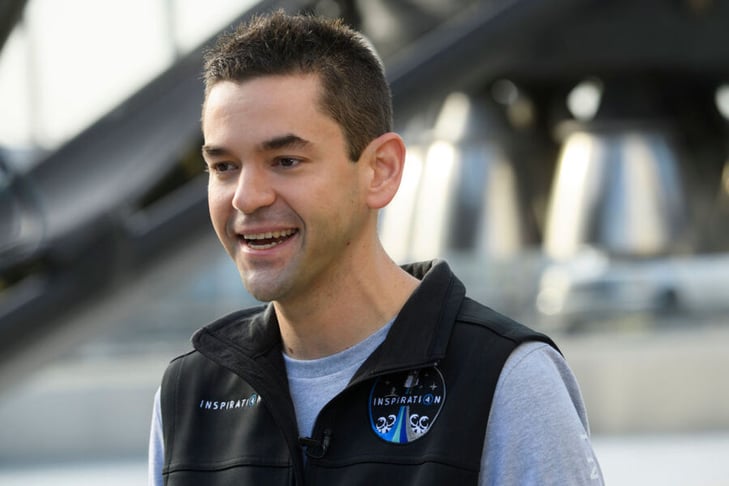 AFP/PATRICK T. FALLON/Getty Images provided the image.
On February 11, 1983, Jared Isaacman was born in New Jersey. In Somerset County, New Jersey's Far Hills, he graduated from high school there. As a young teenager, Jared began working on computers doing technical support and repairs. By the time he was 16, he received a full-time job offer from one of his clients and decided to drop out of high school to pursue the opportunity. He completed his GED and left.
In 1999, he started his first business out of his parents' basement. The company changed its name to United Bank Card, a retailer of payment processing, in 2005. Later, the business was renamed Harbortouch, and then Shift4Payments. The business is a PayPal-like point-of-sale payment provider. The company's first CEO, Isaacman, is still in that position today. By 2020, a third of the nation's restaurants and hotels, including the Hilton, Four Seasons, and fast-food franchises like KFC and Arby's, were using Shift4Payments to handle $200 billion in payments yearly.
Isaacson also flies airplanes. He co-founded Draken International in 2011 with Sean Gustafson and Scott Poteet. Draken supplies tactical aircraft and pilot training for the American military. Draken owns a fleet of roughly 70 fighter jets, which is largely considered to be the largest privately-owned air force in the world. Isaacman used to be a member of the Black Diamond Jet Team, a civilian aerobatic flying team.
Isaacson, who is married and has two daughters, seems to have an insatiable need for adventure. In an effort to raise money for the Make-A-Wish organization, Isaacson made an attempt to break the existing record for the quickest light jet flight around the world in 2008. His 83-hour flight time caused him to just barely miss his destination. The previous record was 82 hours at the time. The next year, he succeeded on his second attempt. In a small jet, he flew around the world in under 61 hours, 51 minutes, and 15 seconds, breaking the previous record by more than 20 hours. The Make-A-Wish Foundation of New Jersey received funds from this attempt. Isaacman's world-record flight was conducted in a Cessna Citation CJ2. In his second try, he avoided stops in Japan and India where he had experienced lengthy delays when attempting to break the world record in 2008.
Isaacman, a self-described "space fanatic," has wanted to travel to space ever since he was a young child. He leaped at the chance to take part in SpaceX's first commercial space voyage primarily for this reason. He bought all four seats on the Dragon Capsule for an undisclosed price, though he has commented that it was less than the $200 million he hopes to raise for St. Jude Children's Hospital. The other three passengers' identities are now unknown. The first is a female employee of St. Jude Children's Research Hospital who works in healthcare. Those who donated to St. Jude's by a particular date will all be entered into a random drawing for the opportunity to be the second passenger for the third seat on Inspiration4. (Note: My mother informed me that she recently gave to St. Jude's, and I informed her that she would be eligible for this drawing.) An owner of a business who uses Shift4Payments will take the final seat. In March, the three passengers' real names will be made public. It is anticipated that the spacecraft would orbit the Earth for between two and four days.