LVMH Pulls The Plug On Rihanna's Fenty Fashion Line
Even Rihanna is not immune to a pandemic. LVMH, the luxury goods company that backed her Fenty fashion label is putting Rihanna on the back burner for now after sales got off to a slow start and then slowed down even more once the pandemic hit.
The Fenty apparel brand wasn't as successful as the Fenty cosmetics line, which Rihanna and LVMH jointly introduced in 2017. Rihanna promoted her makeup brand to her 102 million Twitter followers and 91 million Instagram followers, which greatly increased the visibility of her line. Being one of the only brands on the market to provide a variety of skin tones helped Fenty cosmetics succeed.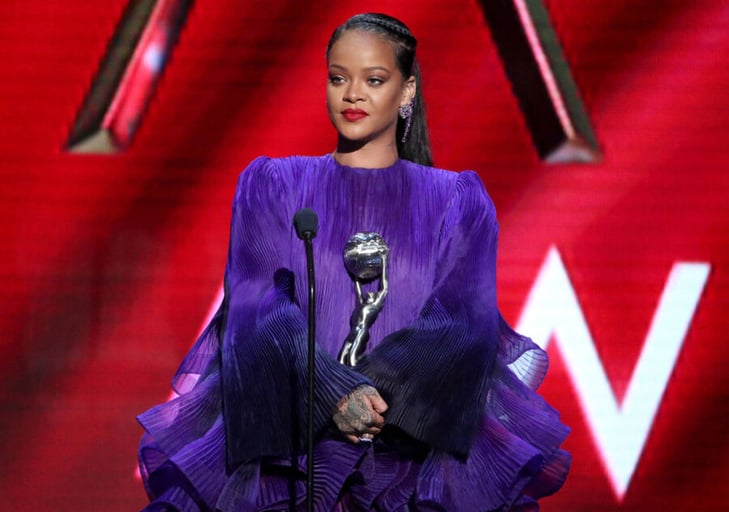 Getty Images/Rich Fury
The variety of skin tones that Rihanna offers sets her makeup collection apart from other brands. While other brands only offer a few tones of foundation, Fenty offers 40. Additionally, the brand offers lip gloss, blush, highlighters, and bronzers. In its first two months, the brand generated $100 million in sales. The line brought in $570 million in 2018. She holds a 15% stake in the partnership. A skincare line that Fenty Beauty recently introduced is doing well. She partnered with LVMH to develop Fenty Beauty in the fall of 2017. Fenty Beauty is sold at Sephora (which is also owned by LVMH) as well as on its own website and each release sells out pretty quickly. The initial value of Rihanna's collaboration with LVMH for Fenty Beauty was $10 million.
In May 2019, Rihanna announced another partnership with LVMH, Fenty, a fashion line. Fenty launched as a pop-up store in Paris on May 22, 2019, and then worldwide on May 29, 2019, online. High-end apparel, accessories, jewelry, and footwear are all sold by Fenty. She is the first person of color and a woman to debut a new brand with the high-end fashion company. LVMH hasn't introduced a fashion brand since 1987 until Fenty.
It's possible that Fenty's clothing line wasn't prepared to compete with the other household names in LVMH's portfolio. The luxury companies owned by LVMH include Louis Vuitton, Celine, Christian Dior, Bulgari, Fendi, Marc Jacobs, and a host of others. These companies are well recognized for their pricey, sought handbags and accessories, which are more expensive than cosmetics. The premium champagne labels Moet & Chandon and Dom Perignon are also owned by LVMH. Additionally, new brands do not have the cachet of decades (if not centuries) of history that enable older luxury brands to convince customers to spend thousands of dollars on a purchase.
The rich CEO of LVMH, Bernard Arnault, still desires to do business with Rihanna. Savage X Fenty, the lingerie label Rihanna co-founded with TechStyle Fashion Group, an online clothing retailer based in Los Angeles, was recently acquired by LVMH. Rihanna wants her underwear collection to be as accessible as her cosmetics brand, so it is available in a variety of hues to complement all skin tones. Additionally, it is available in a variety of sizes outside of the conventional 2 to 12 range. Her plus-size and transgender models have appeared in her runway shows and advertising campaigns, much to the delight of her followers. Through L Catteron, a private equity fund run by Arnault, LVMH has an interest in Savage X Fenty.