Luka Doncic And Trae Young Were Traded For Each Other On Draft Night — And They Each Just Signed $200+ Million Extensions
In NBA history, Luka Doncic and Trae Young will always be linked. And now, they'll be linked for another big reason.
For all 30 teams, the NBA Draft is an exciting moment. The worst teams get to find the cornerstones of their new franchises while the top teams search for players to round out their squads. The league will be humming with trades in addition to the actual picks.
There are situations when two draft picks are exchanged. But rarely do they both thrive as these top five picks have.
The Atlanta Hawks and Dallas Mavericks respectively had the third and fifth picks in the 2018 NBA Draft. The two teams swapped picks so they could both get their preferred guy: Dallas ended up with Luka Doncic and Atlanta got Trae Young.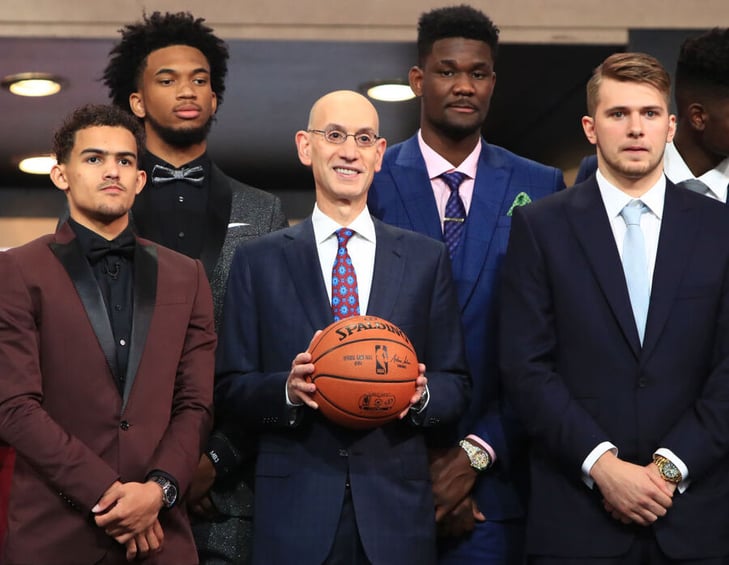 During the 2018 NBA Draft, Trae Young (front left) and Luka Doncic (front right) are shown. (Image: Mike Lawrie/Getty) )
At the beginning of the free agency era, the Hawks signed Young to a five-year, $207 million supermax contract. The Mavericks then offered Doncic the same five-year, $207 million contract a few days later. The 2022–23 season will see the start of both contracts.
But there is a tiny distinction. Doncic is already eligible for the supermax, so he can make the full $207 million. For Young to earn $207 million in the future season, he must be named to an All-NBA team. Otherwise, during those five seasons, he will earn $172.5 million.
Doncic and Young have already shown they'll be among the next generation of stars in the league. They're about to begin earning their NBA star salary right now.