In the midst of Miami's Biscayne Bay is a man-made island called Palm Island. There are 136 luxury homes on the pill-shaped island, 98 of which are oceanfront. On Palm Island, 16 houses are now up for sale. The cheapest house on the market right now is a 3,400 square foot, $5 million property that is in the island's middle and doesn't have any ocean views. The most expensive home for sale on Palm Island today is a newly-constructed, 15,000 square foot mansion on the ocean side that is currently listed for just under $50 million.
Today, we're going to discuss the house at 70 Palm Avenue. This mansion, which just recently hit the market for $33.9 million, has a rather amazing history involving two hip-hop entrepreneurs, a bankruptcy, an energy drink billionaire and so much more…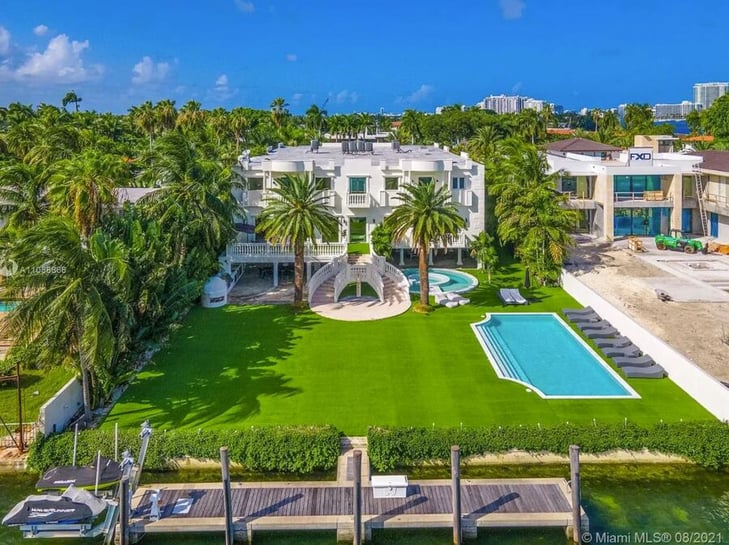 From Scratch to Storch
Before putting the house on the market, the person who built it only lived there for approximately a year.
Passing the Storch
Hip-hop producer Scott Storch was at the pinnacle of his profession in 2006. Beat marker has been producing hit songs for musicians like Chris Brown, Beyonce, Snoop Dogg, and 50 Cent for the past few years. He created the following tracks just in 2005:
Even though Storch had a big career, the picture lacked something. He needed a massive Miami estate. Scott thus spent $10.5 million in May 2006 to purchase 70 Palm Avenue. His brand-new $20 million yacht, "Tiffany," was parked in front.
Unfortunately, Scott was also apparently spending an outrageous amount of money on his way of life at this time in his life. He is notorious for spending $30 million in a span of six months. Scott estimated that during this time he was spending $250,000 a month on partying alone.
Just a few years later, Scott Storch's celebration was over. His yacht was repossessed and a bank foreclosed on 70 Palm Ave.
A Rockstar Flip
Rap mogul Bryan "Birdman" Williams purchased the house from Russ Weiner in 2012 for $14.5 million. Weiner made $7.75 million off of the sale after only two years of ownership. To put it another way, Russ was effectively paid $3.875 million annually to reside at 70 Palm Avenue. It comes to $323,000 each month. That amounts to $10,666 daily. to reside in an opulent Miami villa near the water.
Put Some Respect On His Name
Once he was the proud owner of 70 Palm Ave, Birdman proceeded to sink millions into renovations and furnishings. He famously spent $2 million on a gold toilet.
Sadly, the house lingered on and off the market for the following three years, occasionally resurfacing with a lower asking price.
On July 23, 2020, Birdman was finally sold. The purchase cost $10.85 million. That resulted in a $3.65 million loss for the co-founder of Cash Money Records.
400 Days Later
Whoever purchased 70 Palm Avenue from Birdman is hoping to make an incredibly unbelievable flip, as first reported by Dirt.com. After buying the house just 400 days ago for $10.85 million, the current owners just listed the property for $33.9 million.
To be fair, the owners did perform a nearly-full renovation, adding new floors, windows and bathrooms. Additionally, it appears that they turned back Birdman's recording studio into a guesthouse.
I hope Birdman doesn't have excellent wifi for a few days wherever he went. I don't think he's going to be too pleased to hear what's going on over at 70 Palm Avenue