Jeff Bezos Offers To Foot $2 Billion NASA Bill If They "Correct Their Mistake" Of Working With Space X Instead Of Blue Origin
After a journey into space that lasted 10 minutes and 10 seconds, Jeff Bezos has just returned in his phallic-shaped spaceship with an innovative proposal. He's offering NASA a deal, or in his words, a chance to correct their mistake of choosing Elon Musk's SpaceX over Bezos' Blue Origin.
Jeff Bezos has just returned from a 10-minute trip into space on a vehicle with a phallic form, and he has an idea. Or perhaps a proposal. Jeff has a proposal for NASA, which he describes as an opportunity to make up for their error in selecting Elon Musk's SpaceX over Jeff Bezos' Blue Origin for a moon landing mission.
In order to create a moon lander and send NASA astronauts back to the moon, Jeff Bezos' space exploration business has offered to cover the cost of up to $2 billion for the first two years of the contract. The firm's fixed-price choice would shield NASA from any cost escalations. A lunar landing mission would be developed and launched on Blue Origin's own dime.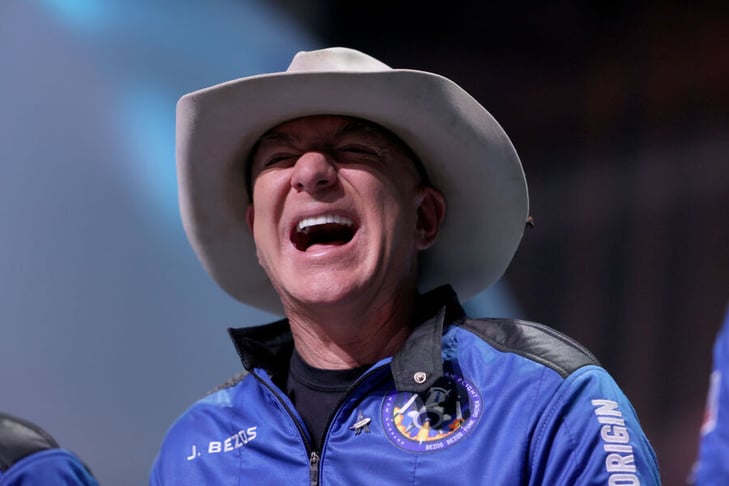 Getty Images/Joe Raedle
With Bezos' proposal, Blue Origin would be a more affordable choice than the one NASA chose with SpaceX. In April 2021, NASA awarded the Human Landing System contract to Elon Musk's space exploration business. The following month, Bezos' Blue Origin filed a protest with the Government Accountability Office against the $2.9 billion contract calling the contract "flawed" and accusing NASA of "moving the goalposts at the last minute." Until the protest is resolved, the SpaceX contract will be put on hold.
The world's richest man, Jeff Bezos, penned an open letter to NASA Administrator Bill Nelson outlining his proposal to maintain competition in the Human Landing System program by requiring NASA to select two manufacturers for the spacecraft that will carry multiple astronauts to the moon rather than just one. Bezos said that NASA should return to its original competitive strategy in place of this single-source plan. Later on, he continued, "Without competition, NASA would find itself with few options early in the contract as it tries to negotiate missed deadlines, design changes, and cost overruns."
Bezos' open letter essentially charged NASA with favoring SpaceX over other applicants. "Only one HLS bidder, SpaceX, was given the chance to modify their price and funding profile in April (before to your appointment as NASA administrator), which led to their selection. Blue Origin did not receive the same chance. That was a mistake, that was out of the ordinary, and that was a chance lost. But there is still time to make amends. We are prepared to assist NASA in reducing its technical risks, resolving its financial issues, and putting the Artemis Program back on a competitive, credible, and sustainable course."