It Took 40 Years, But Larry Ellison Will Finally Get To Be Richer Than His Nemesis Bill Gates
For more than 40 years, Larry Ellison and Bill Gates have been fierce adversaries. Larry will soon accomplish something he's been after for years… to be richer than Bill Gates.
If you frequent CelebrityNetWorth.com, you are likely familiar with Larry Ellison as the man who recently purchased this $80 million Florida mansion and owns $1 billion worth of property in the United States, including the entire Hawaiian island of Lanai. You may also be familiar with him as the individual who increased a $1 billion investment in Tesla to $10 billion while gaining a position on the company's board of directors. He owns a yachting team, a major tennis event, and fighter jets. He donated the money to pay for blockbusters like "Zero Dark Thirty," "American Hustle," and "Foxcatcher" through his daughter Megan Ellison, a film producer. And we still haven't covered Larry's main source of riches, the business he built called Oracle. Ninety percent of Larry's $90 billion net worth comes from his Oracle stock, which pays out $1 billion in dividends annually.
But despite all of those honors and successes, Larry has been motivated for the past 40 years by a single, deep-seated burning truth:
He fucking hates Bill Gates.
Not even close to exaggerating. Sure they might be pleasant to each other in the stands of tennis tournaments, a shared passion, but there is no love shared between these two software titans.
And now that Bill and Melinda Gates are getting divorced after 27 years of marriage, Larry will finally be able to realize a dream he has been working on for decades:
Bill and Melinda Gates would each receive almost $70 billion if they decided to divide their existing $145 billion fortune. Larry Ellison would then surpass Bill Gates in wealth by $20 billion. Even if it may not have been precisely how Larry had envisioned, he will undoubtedly accept the victory.
The Origins

Larry and Bill's rivalry dates back to the early 1980s. They started their software businesses at almost the same time and had nearly identical long-term objectives.
On March 12, 1986, Oracle went public. Microsoft went public the very next day. The starting price target for Microsoft was increased from $16 to $21 by the company's bankers, riding the wave of Oracle's tremendous day before. When Microsoft stopped trading on March 13, Oracle's market value had been more than doubled, partly because of the ground Oracle had already broken.
That set the tone for the next two decades. Oracle was ranked second, behind Microsoft.
Over the ensuing decades, Gates dominated the personal computer software industry. Microsoft edged out all competitors, often using less-than-scrupulous strategies.
Despite this, Ellison and Oracle were able to establish a dominant position in the commercial software sector that is still very profitable but not quite as valuable.
Microsoft Vs. Oracle
Here is a fairly straightforward explanation of the distinctions between Microsoft and Oracle: The software that powers your personal laptop is made by Microsoft (if you use a PC). The software that powers the payroll, HR, and accounting databases used by your organization is made by Oracle. Oracle creates the software that aids in booking purchases for airlines and assassins for the CIA. Seriously. Oracle has throughout the years given the CIA and defense contractors a ton of top-secret databases and software.
Nobody was more enraged and upset by Microsoft's hegemonic position in the world during the 1990s and 2000s than Larry Ellison. Ellison was furious that Microsoft and Bill Gates were always given priority over his company. Because he thought Microsoft's goods were never the best available, it bothered him especially. Microsoft offerings were often just the only option available to consumers thanks to Microsoft's monopoly on the personal computer.
Ellison never missed a chance to mock Gates in public. In every single interview and keynote speech he gave, one or more Gates insults would be unleashed.
Guess who paid for private investigators to provide the government with dirt when Microsoft was under investigation by the justice department for antitrust crimes in the 1990s? Lawrence Ellison Ellison's investigators famously dug through trash dumpsters at several technology advocacy groups – that were publicly supporting Microsoft in its antitrust case – to prove that they were in fact FUNDED BY MICROSOFT. A wise choice.
The world wide web as we know it now is primarily due to Netscape, and Microsoft did all in its might to strangle the company in its early years.
Additionally, their antagonism extended beyond the commercial sector.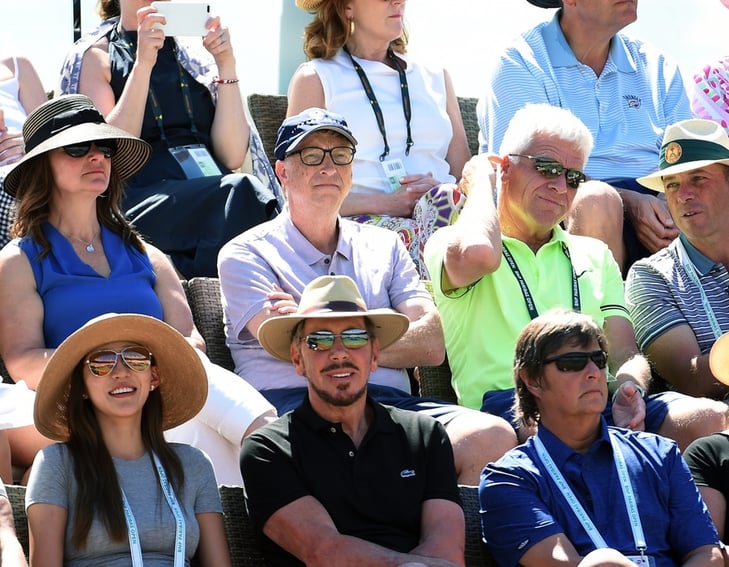 Identify the location of Bill and Melinda Gates' nuptials in 1994. about Lanai. Where Bill and Melinda exchanged vows in the past, Larry demolished the building and constructed the Four Seasons Hotel, which is now entirely owned by Ellison. Not that Bill and Melinda will ever need to go on an anniversary trip again, but had they wanted to re-visit the former site of their nuptials… they'd have to pay Larry for the privilege.