If You Want To Make A Ton Of Money, Write A Beloved Children's Book. This Is The Story Of One Very Lucrative Caterpillar…
Eric Carle transformed his love of nature and his knowledge of young children's fears into a hugely successful children's book phenomenon.
A excellent children's book can help a youngster learn to read, ignite their imagination, and develop a lifelong love of the written word. Therefore, when a children's book author creates a tale that kids all over the world like, it can spread swiftly and win the hearts of everyone from parents to teachers to babysitters. This is the situation with "The Very Hungry Caterpillar" by Eric Carle.
At the age of 91, Eric Carle passed away earlier this week. He was very affluent when he passed away, mostly because of one book. Eric Carle made between $5 million and $8 million in book royalties annually until selling the trademark rights to Random House in 2020.
What distinguishes this book from Eric Carle's many other works, then? It requires real talent, and the ability to get inside the mind of a child.
On June 25, 1929, Eric Carle was born in Syracuse, New York. When Carle was in elementary school, his mother, who was originally from Germany, made the decision to relocate the entire family back to her native country. The remainder of his childhood and adolescence were spent in the Stuttgart area.
Eric's family life was abruptly disrupted by World War II. His father was conscripted into the German Army and afterwards captured. He weighed barely 85 pounds and was "a devastated man" when he returned to what was remained of their house, according to Carle.
As a young teen, Carle was forced to dig trenches on the Siegfried line, and found himself witnessing death all around him every day. He fled back to America after earning his degree from the Stuttgart Academy of Fine Arts with just $40 in his pocket. An excellent artist, he began working for The New York Times, but was subsequently drafted into the US Army and stationed back in Germany during the Korean War. He finished his service and went back to New York. He continued to work for the New York Times for a few more years before turning to advertising.
A local author made him an intriguing proposition after seeing his image of a lobster for an advertisement. Successful educator and author Bill Martin, Jr. got in touch with Carle and requested him to draw a book, which resulted in "Brown Bear, Brown Bear, What Do You See?" being released in 1967. The book almost immediately became a hit, and Eric Carle realized that his career in drawing and graphic design was suddenly taking a completely different turn. He made the decision to pen and draw a book about a worm in 1969. The hole his hole puncher produced in a stack of papers served as the basis for the tale. When his editor recommended a caterpillar instead of the book's intended subject—a bookworm—the plot for the novel took off. The short, colorful story was popularized as "The Very Hungry Caterpillar." The storyline follows a caterpillar as it develops and consumes everything in its path. It eventually spins a chrysalis from which a butterfly emerges.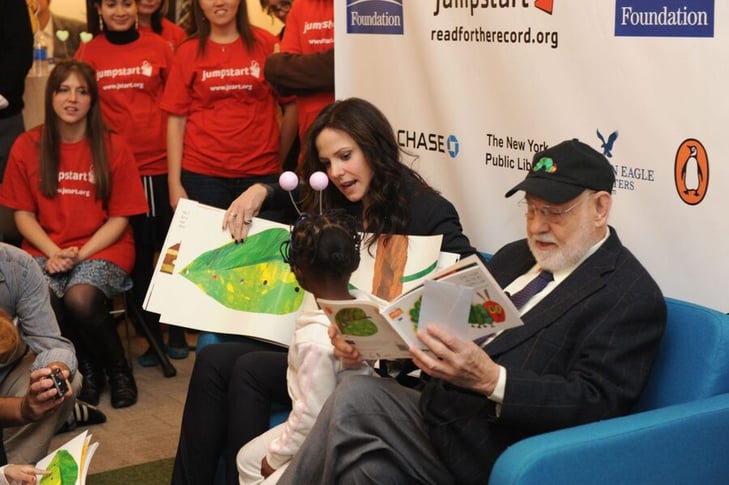 The book serves as a perfect illustration of Carle's later characteristic style. Each illustration is made up of several hand-painted papers that Carle cuts out and layers in a collage-like fashion. A hole goes through each of the book's pages, which are each a different shape to reflect the various things the caterpillar eats. The book's unevenly shaped pages made printing it extremely challenging. Ann Beneduce, Carle's editor, eventually discovered a printing company in Japan that claimed to be capable of handling the task. On June 3, 1969, the book was formally published.
Today, more than 38 million copies of "The Very Hungry Caterpillar" have been sold worldwide. Its brief text has been rendered in 58 different languages. One copy of the book is thought to be sold somewhere in the world every minute. Almost every significant prize for children's literature has either been nominated for it or it has won it. In 2003, Carle was awarded the Laura Ingalls Wilder Award for his contribution to children's literature, and he was the US nominee for the prestigious Hans Christian Anderson Award in 2010.
Even though "The Very Hungry Caterpillar" was a huge hit, Carle also authored and drew other books. Though he is most widely recognized for that early work, he has since gone on to write and/or illustrate 70 other books, many of which have become bestsellers. These pieces include, among many others, "The Grumpy Ladybug," "All Around Us," "All in a Day," and "Little Cloud." His books have sold 170 million copies worldwide, and sales of his books are still increasing at a rate of approximately one million each year.
Revenue from the books has reached the hundreds of millions of dollars.
Eric sold the Caterpillar franchise rights to Random House Books in late 2019 for an undisclosed, presumably very sizable sum of money.
Eric Carle was at least $80 million in wealth at the time of his passing.
Before his passing earlier this week, Eric and his wife ran The Eric Carle Museum of Picture Book Art, a museum dedicated to children's book art, located in Amherst, Massachusetts. His publications are intended to "cross the divide between home and school," he had previously said. He is constantly looking for ways to use his stories to assist children overcome the anxiety that comes with leaving the comfort of home and starting school for the first time. That change, in his words, is "the second worst trauma of childhood." (Birth is the first.) In light of this, he makes an effort to foster a sense of awe and excitement about the natural world, learning, and the imaginative possibilities of the uncharted. It's safe to assume that Eric Carle understands fear and how to overcome it based on his experiences during the war. That understanding, coupled with amazing artistic abilities, has created some of the most beloved children's books of all time, and instilled a love of reading in millions of kids around the world.