How Were The Fortunes Of America's 10 Richest Families Impacted By The Pandemic?
The 10 richest families in America gained or lost money as a result of COVID.
We're in a crazy period. Who could have predicted as we celebrated the winter holidays of 2019/2020 that a global pandemic would soon sweep through the world and change pretty much everything about the way we lived, worked, shopped, traveled, communicated, celebrated, went to the doctor, etc.
The fact that billionaires have become incredibly wealthy in the past 1.5 years has been well reported.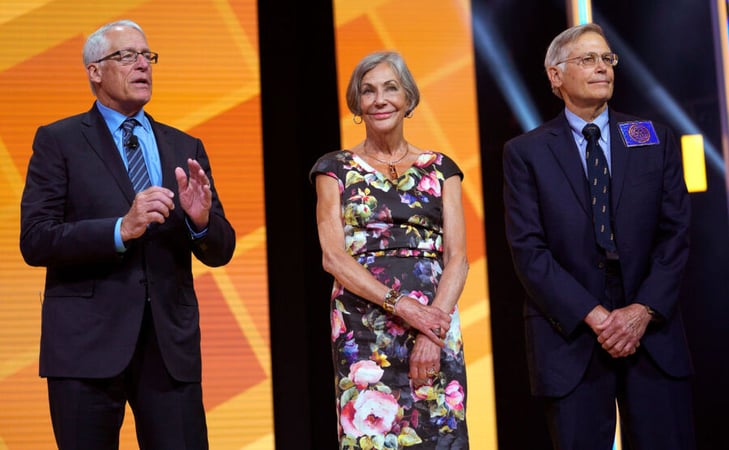 Jim Walton, Alice, and Rob (Photo by Rick T. Wilking/Getty Images)
#10. The Hearst family
William Randolph Hearst, who established The San Francisco Examiner in 1887, is the ancestor of the Hearst family. William Jr., his son, went on to earn a Pulitzer Prize for journalism. Hearst Corp., which owns 46 newspapers, 340 magazines, and investments in ESPN, Lifetime, and A&E, is currently headed by his grandson William III.
Between 2018 and 2020, the Hearst family fortune suffered a $3.5 billion loss. The pandemic's consequences are to blame directly. Consider the ESPN ownership by the family. For a few months, live sports were entirely discontinued, and when they were resumed, the seasons had been cut short. The same is true for any movie or television project involving the family's Lifetime or A&E interests. Similarly, during the pandemic, newspaper and magazine sales suffered because there was no longer a need to advertise for numerous sectors, such as the cruise and vacation sectors.
#9. The Duncan family
Net worth as of 2018: $26 billion
Net Worth in 2019: $24 billion
Net Worth in 2020: $22 billion
Enterprise Products Partners, the wealthiest
Siblings Randa, Milane, Dannine, Avara, and Scott inherited a $10 billion estate from their father Dan Duncan when he died in 2010. Since then, the family's wealth has more than doubled as a result of an increase in the stock price of the company their father created, Enterprise Products Partners.
Between 2018 and 2020, the Duncan family's fortune shrank by $4 billion. They work in the crude oil and natural gas sectors. Because of the pandemic-related closures, there were logically fewer automobiles and trucks on the road, which reduced demand for oil and gas.
#8. The SC Johnson family
Net worth as of 2018: $28.2 billion
Net Worth in 2019: $30 billion
Net Worth in 2020: $37 billion
S.C. Johnson founded a parquet flooring company in 1886 and developed a floor wax for his customers. The S.C. Johnson business and riches got their start in this way. Today, the business is recognized for brands including Pledge, Windex, and Ziploc. The privately held corporation is still owned and managed by the Johnson family.
#7. Edward Johnson family
Net worth as of 2018: $28.5 billion
Net Worth in 2019: $30 billion
Net Worth in 2020: $36 billion
Continuity of wealth:
In 2020, the stock market absolutely exploded. Following a significant decline in March 2020, stocks and funds rose until the end of the year. This was fantastic news for the Edward Johnson family and their business, Fidelity Investments, as it enabled the family fortune to grow by $7.5 billion between 2018 and 2020.
#6. The Pritzker family
Net worth as of 2018: $33.5 billion
Net Worth in 2019: $33 billion
Net Worth in 2020: $32.5 billion
The Hyatt Hotel wealth is allegedly owned by the Pritzker family. A.N. Pritzker and his sons Jay, Donald, and Robert formed Hyatt. The family includes 11 billionaires. With travel being almost entirely shut down during the pandemic, the slight loss in net worth here makes sense.
#5. The Cox family
Net worth as of 2018: $33.6 billion
Net Worth as of 2019: $33.6 billion
Net Worth in 2020: $33.6 billion
Wealthy source: Cox Enterprises
When James M. Cox acquired the Dayton Evening News in 1898, the Cox family fortune had its start. The company expanded from there and today is made up of Cox Communications, Cox Media Group, DealerTrack, AutoTrader.com, Kelley Blue Book, and Manheim car auctions.
#4. The Cargill-MacMillan family
Cargill Inc. is the wealth's origin.
W.W. Cargill established a modest grain storage business in 1865, just as the Civil War was coming to a conclusion. This was the beginning of the Cargill-MacMillan wealth. He became rich as a result of the railroads' westward expansion. The Cargill-MacMillan family currently has more millionaires than any other family in the world, 14 to be exact. Four members of this family fell off the list of the 400 wealthiest Americans in 2019 — Alexandra Daitch, Sarah MacMillan, Lucy Stitzer, and Katherine Tanner, who each have a net worth of $1.7 billion, down from $2.1 billion from 2018.
The family firm of Cargill-MacMillan operates in the food and farming industries. That is a pretty dang secure line of work. People need to eat, after all, and farmers continued to work in spite of the pandemic.
#3. The Mars family
Net worth as of 2018: $89.7 billion
Net Worth in 2019: $90 billion
Net Worth in 2020: $94 billion
The world's largest candy corporation is owned by the two Mars siblings who are still alive, Jacqueline and John. Each year, Mars generates more than $30 billion in revenue. Their grandfather founded the business in 1911 when he started creating and selling candy out of his kitchen in Tacoma, Washington.
Since 2018, the Mars family fortune has increased consistently year after year. From 2018 to 2019, it went up very marginally, and from 2019 to 2020, it went up by $4 billion. I don't know about you, but when I was stuck at home for 14 months I turned to comfort food and that was often a Snickers bar. The rise of the Mars wealth suggests that I wasn't the only one who did this.
#2. The Koch family
Net worth as of 2018: $98.7 billion
Net Worth in 2019: $98.7 billion
Net Worth in 2020: $120 billion
Koch Industries is the wealth's source.
Koch Industries, the second-largest private firm in the United States with annual sales over $100 billion, is led by Charles Koch. Their father Fred founded the business after creating a novel method for refining oil in the 1920s and becoming wealthy doing so. When David Koch passed away in 2019, his wife Julia Koch received the majority of his wealth.
Between 2019 and 2020, the Koch family fortune increased by $20 billion. Koch Industries owns Georgia-Pacific, a maker of, among other things, toilet paper and paper towels – both of which were hot commodities in the spring and summer of 2020.
#1. The Walton family
Walmart is a wealth creator.
Thanks to Walmart, the Waltons are the wealthiest family in the country. Walmart was established in 1962 by Sam and Bud Walton in Rogers, Arkansas. With $559.2 billion in annual sales, Walmart is the largest revenue-generating company in the United States. For instance, Amazon's most current financial data show revenue of $386.1 billion. Like Amazon, Walmart benefited from pandemic panic and online shopping to see its revenue, and hence the Walton family fortune rise $46 billion from 2019 to 2020.