How Much Nick Saban Will Make With His New Alabama Contract?
The Crimson Tide's pact with Nick Saban will keep him in town for a while and net him a sizable salary.
Nick Saban has a 165-23 record in 14 seasons at Alabama. He has amassed seven SEC trophies and six national championships over his career. A perfect 2020 campaign that culminated in the College Football Playoff National Championship is included in that record.
Saban may therefore continue to coach the Crimson Tide for as long as he likes.
Alabama is also aware of this. The institution just extended the coach's contract by three years. The new deal will keep him in Tuscaloosa through the 2028 season. Saban will be 77 when the agreement expires if he sees it through to the end.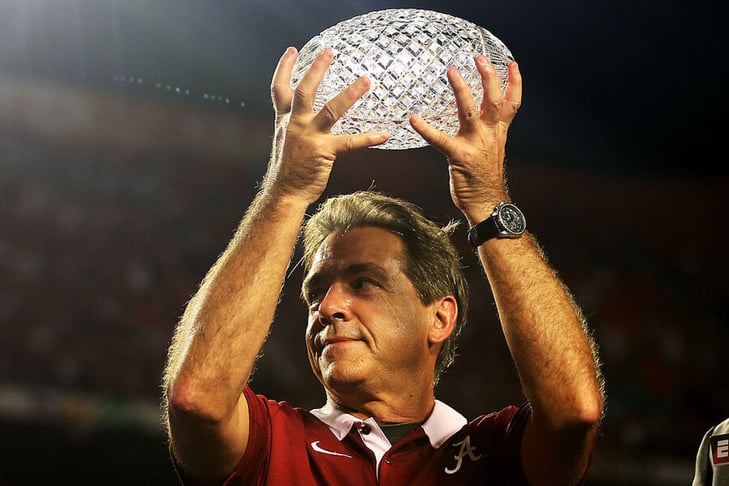 Images by Streeter Lecka/Getty
"Terry and I are excited and glad to sign a new contract that will keep us in Tuscaloosa until the conclusion of our professional careers. Our family now has deep roots in Tuscaloosa and the state of Alabama, where we call home. With this partnership, we have the opportunity to continue making a difference in the lives of the young men who choose to play football and attend Alabama for their education as well as their families."
Naturally, Saban's big contract brings the continuing debate over compensating college athletes back into focus. Although Alabama has a great history of sending players to the draft, this barely amounts to a dozen or so guys per year. The opportunity for everyone else will simply be to regularly compete for a national championship, which is no easy task.
With regard to his entire career, Saban has a record of 256-65-1. He had previously served as a coach at Toledo, Michigan State, and LSU before moving to Tuscaloosa. In 2003, he and the Tigers also won a championship.
Before calling it a day, he's certain to pick up one or two more victories.