How An Epic Life Of Extravagant Partying Turned Vijay Mallya Into A Bankrupt Fugitive Billionaire
Vijay Mallya was a liquor magnate and millionaire who was renowned for his opulent lifestyle and wild parties. After accruing more than $1 billion in debt, he escaped to the UK. He is still being sought by banks and the authorities for alleged bank fraud and money laundering.
A British court declared Vijay Mallya, a former Indian alcohol mogul, bankrupt at the end of July. This ruling will allow a consortium of 17 Indian banks to go after Vijay's global assets and could potentially mean Vijay will be extradited back to his home country in the very near future.
In recent years, Vijay has undergone a spectacular fall from grace. Due to his extravagant lifestyle, which included a fleet of fast vehicles, homes, yachts, private jets, and extravagant parties, he was once referred to as the "King of good times." He is currently a wanted fugitive bankrupt billionaire.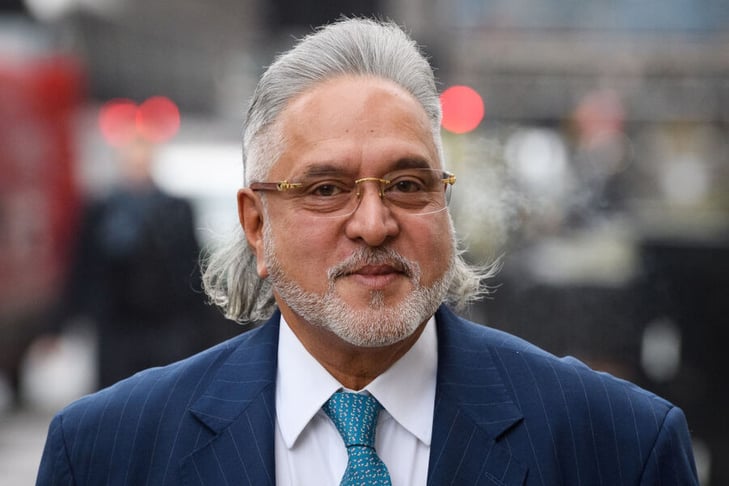 Early Life and Career Beginnings
Born on December 18, 1955, Vijay Mallya. The largest brewer in India at the time, United Breweries Group, was led by his father Vittal Mallya, the organization's first Indian chairman. Kingfisher, the most well-known brand of the corporation, currently holds a 50% market share in India.
After his father passed away in 1983, Vijay was chosen to succeed him as Chairman of United Breweries. Vijay was 28 years old at the time.
Over the years, the business grew to include over 60 businesses under its corporate umbrella, including chemical producers, real estate fertilizers, paints, newspapers, publications, and more.
Kingfisher Airlines
Vijay established Kingfisher Airlines in 2005. In terms of market share for domestic air travel within India in 2011, Kingfisher ranked second. Unfortunately, in late 2011 the company reported financial results that indicated it was "drowning in high-interest debt and losing money." The Mumbai Income Tax officials stopped the company's accounts a month later due to unpaid debt. At that point the company reportedly owed the tax authority $10 million.
The airline claimed its losses were close to $1 billion at the beginning of 2012. Half of the fleet was subsequently grounded, and several workers went on strike as their paychecks stopped coming in. The airline's operations were put on hold in October 2012 after the Directorate General of Civil Aviation revoked its operating license. The company reportedly owed over a half billion dollars to some of India's largest, state-controlled banks.
Mallya and Kingfisher were allegedly owed money, according to a group of 17 Indian banks led by the State Bank of India, who petitioned the Supreme Court of India to stop him from leaving the country in March 2016. Vijay had already left for England, which was unfortunate for the banks. Vijay went to the UK using his diplomatic passport—he was a member of India's upper chamber of Parliament—and has been living there as an exile ever since.
Mallya's Indian assets were attached for $200 million by India's Enforcement Directorate in June 2015 in exchange for $110 million in unpaid loans. His purported loan was secured by new assets worth $930 million in September 2016. By December 2016, the ED had connected Vijay and Kingfisher's assets totaling $1.4 billion to his alleged debt. The assets reportedly included Vijay's shares in United Breweries and $80 million worth of real estate in India.
Vijay's extradition return to India was authorized by a British court in 2018. He made a plea. His appeal was denied in July 2021, and he was declared bankrupt.
And now that Vijay Mallya has spent the previous five years hiding out in England thanks to a British court decision from last month, it seems certain that he will be extradited back to India to face his irate creditors.
The King of Good Times
During the good times, Vijay was known around India as literally the "King of good times."
He invested $110 million in 2008 to buy a pro cricket team. He acquired 41% of a Formula One racing organization. He reportedly had a 600-person 60th birthday celebration at a five-star beach resort in India although his debts had just surpassed $120 million.
He reportedly acquired more than 250 expensive cars during his height, which were kept in a private museum. His fleet of automobiles included:
About 30 of his vehicles were seized and sold at auction by the banks in January 2017.
Richard Branson had previously possessed a 165-foot boat that he also owned together with other ships.
A Boeing 727 and a Gulfstream executive jet were among his two personal aircraft.