Guy Fieri is frequently referred to as "the Mayor of Flavortown," but given the contract he recently signed, that moniker may need to be updated slightly. Guy has become more like to "the Emperor of Moneytown" as of right now. And, in my opinion, no one deserves the title and pay bump more than Mr. Guy Fieri – whose Restaurant Employee Relief Fund topped $25 million last month. According to estimates, Guy has given grants to 43,000 restaurant staff members.
Guy will now be paid $3,000 per hour, 365 days a year, according his new deal.
Guy's previous three-year, $30 million contract, which he signed in 2018, and which paid an average of $10 million per year, was increased by $50 million.
Guy Fieri, the host of "Diners, Drive-Ins, and Dives" and "Guy's Grocery Games," is now the highest-paid TV chef in the world as well as one of the highest-paid individuals in the TV industry as a whole thanks to the new contract.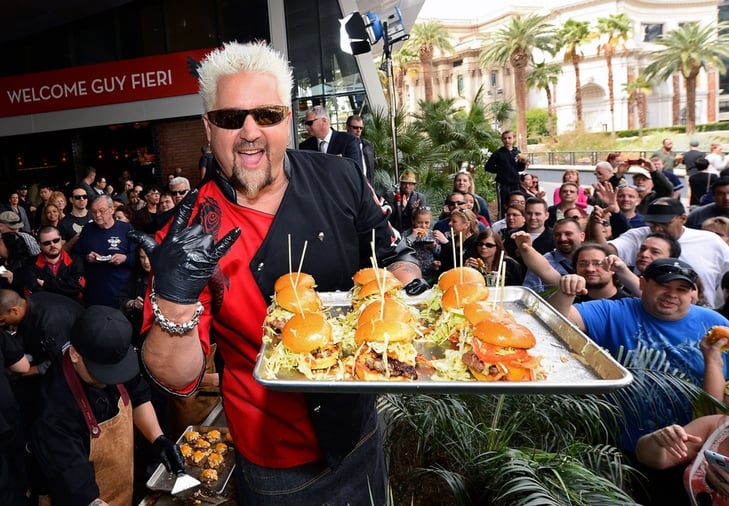 To date, 14 of Fieri's series have aired on The Food Network. He also still owns his first restaurants in Northern California and has licensed his name to 80 restaurants across the globe. He began operating Flavortown Kitchen in 2020 as a delivery-only "ghost kitchen." In the US, there are 175 sites.
Sammy Hagar, a fellow NorCal resident, and Guy collaborated to start Santo Tequila in 2017. This project has the potential to generate a large windfall in the future. With the Cabo Wabo tequila brand, Sammy has already achieved great success. For $80 million, Sammy sold Gruppo Campari 80% of the Cabo Wabo tequila business in 2007. He sold the last 20% in 2009 for an additional $15 million. Sammy's present net worth of $150 million is mostly the result of that sale, NOT his work with Van Halen.
What will Guy Fieri's title be if he is worth $150 million in a few years? The "King of Cashtown," perhaps?