Floyd Mayweather Just Paid $18 Million For This Miami Mansion
With this $18 million mansion purchase, is Floyd Mayweather uprooting from Las Vegas and taking his talents to South Beach? Or is he just purchasing a vacation home?
Floyd Mayweather has lived in Las Vegas, Nevada, his entire adult life. Since 2018, his principal residence has been a 22,000 square foot, custom-built mansion in a gated neighborhood not far from the center of the Strip. Floyd Mayweather can afford to purchase many properties in several cities thanks to his $450 million in assets.
He still owns the nearby 13,000 square foot home that was formerly his Las Vegas house. Outside of Nevada, Floyd owns an apartment in Manhattan and a mansion in Beverly Hills – which he bought for $25 million in 2017, the same year he made $300 million boxing Conor McGregor.
Floyd Mayweather could potentially be bringing his skills to South Beach.
According to the Los Angeles Times, Floyd Mayweather is said to have paid $18 million for this Miami Beach mansion: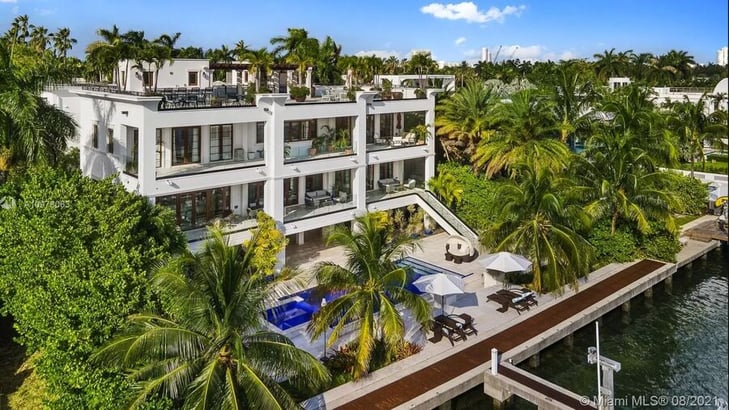 Located on the man-made Palm Island overlooking Biscayne Bay, Floyd's new mansion is three stories with 11,000 square feet of indoor living space. And a 5,000 square foot roof deck is not included in the 11,000 square feet!
Check out the video below to see this monstrous mansion. The roof deck resembles a shopping center you might find in Dubai. The pool view, at the 1 minute mark, with the yacht out front and the water… totally incredible. Thank you, Floyd.