Did Ludacris Really Buy A $20 Million Private Jet? No. Did Elon Musk Really Take A Nine Minute Private Jet Flight For A Secret Twitter Meeting? Yes.
There are rumors that Ludacris purchased a private plane for himself. Elon Musk reportedly flew a Gulfstream G650 from San Jose to San Francisco for a private Twitter meeting, which is completely unrelated. a nine-minute flight that might have taken a 30-minute drive instead.
Friday afternoon is late, so I've decided to combine two stories into one piece. Although I have never done this before, since I am the website's owner, who is to stop me? In my defense, both tales include famous people and private aircraft, so I'm not completely bonkers.
Next up:
Did Ludacris buy a $20 million Private Jet?

The news that Ludacris might have purchased a private jet for more than $20 million has caused the internet to go crazy today.
After posting a number of images and videos to Instagram on Thursday night, when he appeared to proclaim that he had just purchased what appears to be an incredibly expensive private jet, the rumors began to circulate. The video of Luda giving a tour of the jet black aircraft may be found below. The video's caption read as follows:
a message that Ludacris (@ludacris) shared
Several news outlets, notably TMZ, reported that Ludacris bought himself the jet as a graduation present for receiving an honorary degree in Music Management from Georgia State University.
TMZ also claimed that Ludacris was upgrading from a $20 million Hawker 700 private jet. It was implied that his new aircraft was much more expensive than $20 million.
Ludacris may indeed have been upgrading from a Hawker 700, but there's no way his former jet cost $20 million. Hawker 700s were produced between 1977 and 1984. In 1984, a brand-new Hawker 700 would have cost $4 million. Today a used Hawker 700 would cost $900,000 – $1.6 million depending on mileage, condition and amenities. One is readily available for as little as $400,000.
Let's therefore assume that Ludacris has upgraded from a $1 million Hawker 700 to the aircraft shown in his video.
What kind of jet did Ludacris just buy?
I just spent 30 minutes trying to figure out what kind of jet Ludacris just bought. And I believe I succeeded. I actually think I found not just the model, the exact plane.
His new aircraft features numerous windows, which is a significant hint. There are far more windows than on any Gulfstream, Hawker, or Citation. Using this hint as a guide, I did a little further research and discovered that Ludacris had recently purchased a Dassault Falcon 900.
Costs for a Dassault Falcon 900 in good condition range from $3 to $4 million.
Here's a photo of a Dassault Falcon 900 photographed on a runway in Cannes, France in 2014. Does this seem familiar to you?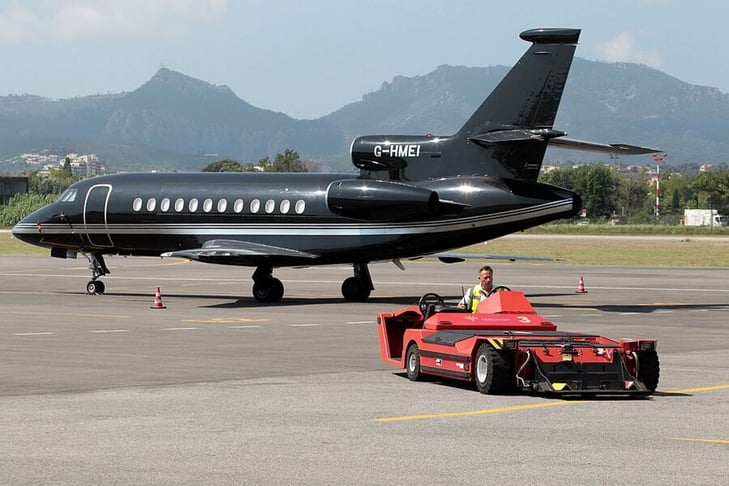 Getty Images (JEAN CHRISTOPHE MAGNENET/AFP)
Compare the jet in the photo above with the one in the background of this photo from Luda's Instagram. Keep in mind the quantity of windows and the paint work, particularly the grey trim:
a message that Ludacris (@ludacris) shared
If my memory serves me right, Ludacris recently acquired a 14-seat 1984 Dassault Falcon 900 with the tail number G-HMEI. According to aviation.com, Luda's aircraft had an extensive renovation in 2013. A Dassault Falcon 900 would cost between $3 and $4 million, as we previously mentioned.
Still a very impressive upgrade and acquisition for Ludacris, but I want to be clear that it's not likely that he just spent $20+ million on a plane. Since that would be the majority of Ludacris' $30 million in assets,
Story #2:
Did Elon Musk really take a nine minute private jet flight for a secret Twitter meeting?
Yes.
Elon Musk and Twitter's top executives held a private meeting last Friday at Twitter's San Francisco headquarters, according to a report in today's New York Times. One of the most juicy details from the Times report is that Elon flew to the conference in his $65 million Gulfstream G650. Normally, that wouldn't be a big concern, but the Times discovered the flight logs showing that Elon travelled from…
ST. JOSEPH.
For those unfamiliar with the Bay Area's topography, it would take an hour to drive from San Jose to Twitter's headquarters on a Friday afternoon at rush hour.
The flight of Elon took NINE MINUTES.
Flight trackers show that Elon departed San Jose at 4:05 and arrived at SFO at 4:14: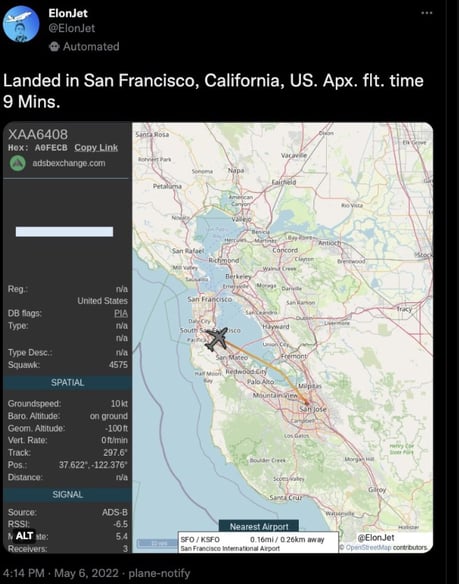 This looks like… maybe not the most environmentally friendly mode of transportation for a guy who literally owns an electric car company and is attempting to save the planet?
Elon will get a pass on this one because he is a busy man and has done more for humanity than most in this area.
Enjoy your weekend!