Bill Gates Just Bought Controlling Interest In The Four Seasons Hotel Chain From Saudi Prince Al Waleed Bin Talal
Bill Gates just acquired controlling interest in the Four Seasons through his own investment company, Cascade Investments.
On Wednesday, Four Seasons Hotels and Resorts disclosed that Gates' Cascade Investments private investment firm had purchased a majority interest in the business at a $10 billion valuation.
Cascade and Kingdom each held a 47.5 percent stake in the hotel business before to the agreement. In essence, Gates is purchasing half of Kingdom's stock, resulting in a final ownership ratio of 71.25 percent for Gates and 23.75 percent for Kingdom. Isadore Sharp, the Four Seasons' founder and chairman, still holds the remaining 5 percent of the company.
After being exposed to the hospitality industry, Isadore left the family business and devoted himself to launching his own hotel. He made the decision to call his modest motel the "Four Seasons." In 1961, the first site in Toronto's financial district opened. He added a few more venues around Canada during the course of the ensuing years. He established a site in London in 1970. The chain's primary focus at this stage was extremely high luxury. Then came even greater worldwide expansion.
The chain saw a surge in the 1980s and 1990s. The 2000s were more difficult. The tourism and travel industries suffered greatly as a result of the September 11th attacks and the collapse of the dotcom boom. In 2007 Isadore Sharp sold 95% of the Four Season to Bill Gates and Prince Al Waleed for $3.8 billion.
When the global real estate market exploded a year later, some people called Gates and Al Waleed fools for paying such a high price. Kingdom, which is a public company in Saudia Arabia, wrote down the value of its share of the investment ever year between 2008 and 2012. Through at least 2015, the value was negative. In the present, their agreement gives the company a $10 billion market value. Patience pays off.
Here is a picture of Bill and a representative of Prince Al Waleed signing the agreement in 2007: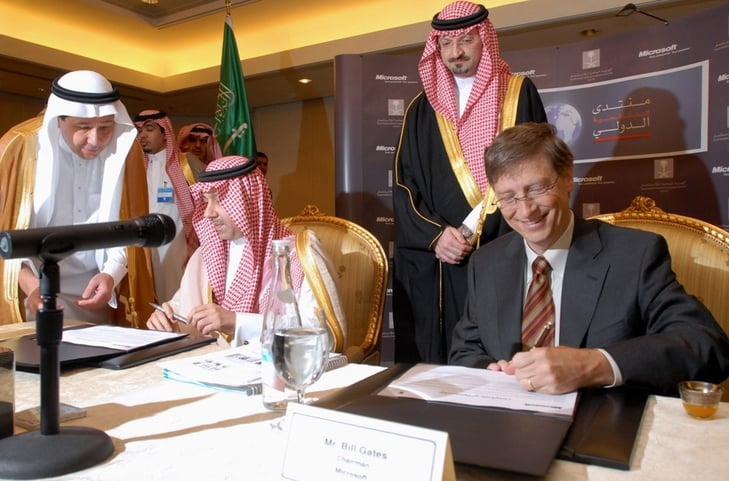 (Getty Images/STR/AFP)
Now we are in the present.
There are currently 121 Four Seasons establishments located in 47 different nations. The company employees an estimated 45,000 people and generates north of $5 billion per year in revenue.
Salutations to Bill on his acquisition!