Banksy Might Have To Reveal His Identity In Order To Win Back Control Of His Trademarks
According to the decision, the artist's anonymity effectively prevents him from being able to protect this art under copyright laws without identifying himself because his "identity cannot be legally determined."
The anonymous street artist known as Banksy has always included anonymity into his work. However, the artist's most recent legal failures may finally prompt him to come out as himself. According to The National Post, recent decisions made by the European Union Intellectual Property Office resulted in Banksy losing the rights to four of his creations.
"The public was able to photograph it for free, and it has since been extensively shared. Banksy permitted parties to disseminate his work and even provided high-resolution versions of his work on his website and invited the public to download them and produce their own items."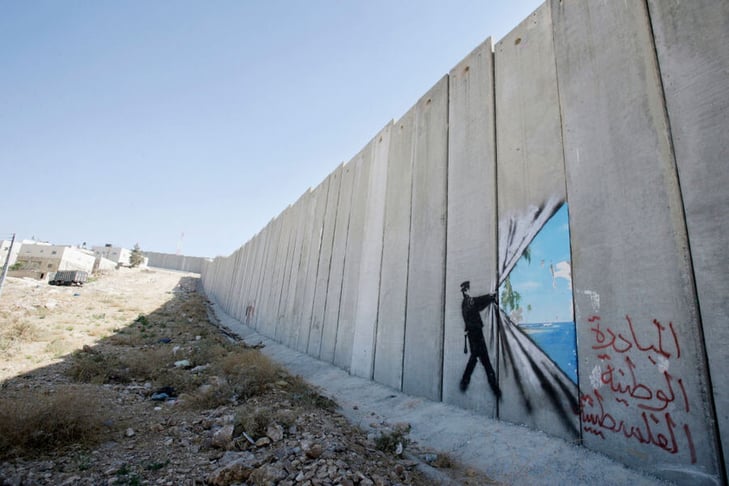 Images by Marco Di Lauro/Getty
The decision reportedly took Banksy's anonymity into account. According to the decision, the artist's anonymity effectively prevents him from being able to protect this art under copyright laws without identifying himself because his "identity cannot be legally determined." This implies that if Banksy is committed to stopping organizations like Full Colour Black from appropriating his art, he may have to finally go public with his identify and real name.
Banksy must now choose between maintaining his anonymity and having some degree of control over how his work is used. His stance on the matter would significantly change if he decided to publicly defend his trademarks. Banksy commented in his 2006 book "Wall and Piece" that "copyright is for losers."
Maybe losers, but very wealthy losers.
A single "Game Changer" piece by Banksy that was sold at auction for $20 million took place in March 2021. That topped his previous record of $12 million which someone paid in 2019 for a piece called "Devolved Parliament."
Would Banksy choose to remain anonymous or pursue financial gain?