Allen Stanford was enjoying life in the early 2000s. He had lots of money, a lavish lifestyle and practically an entire island country as his own private kingdom. He received a literal knighthood from Antigua. Then he really lost it.
The former high-flying businessman is currently serving a 110-year prison term after being found guilty of conducting a massive Ponzi scheme and engaging in fraud.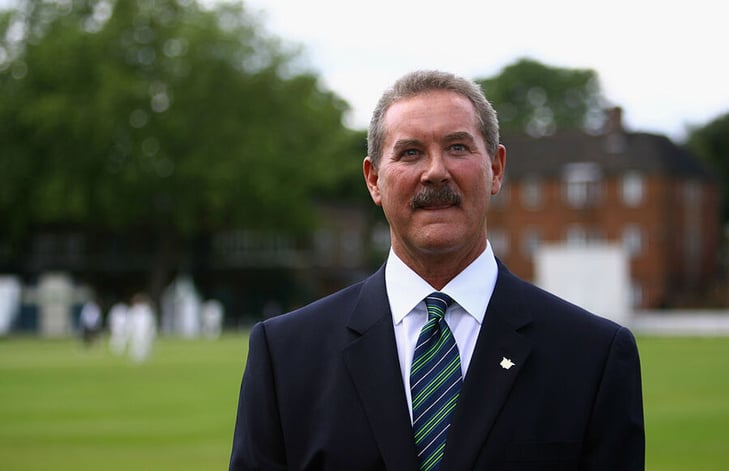 Getty Images/Tom Shaw
Early Life
On March 24, 1950, Robert Allen Stanford was born in the Texas town of Mexia. The family was not wealthy, despite the fact that his father had once served as mayor. After his parents' divorce, when money was very tight, he and his brother moved in with their mother in Fort Worth.
Allen graduated from Baylor University with a BA in finance. After working for a time as a bookkeeper and insurance salesman, he decided to try his luck in the fitness industry. He began by opening a bodybuilders' gym in the 1970s. Unfortunately, it was a failure.
After the gym failed, Allen and his father started investing in real estate. The father-and-son pair acquired large tracts of land for pennies on the dollar in the 1980s, following the collapse of the oil boom. They made a fortune by selling off pieces of their vast real estate enterprise as the market began to recover.
When his father retired in 1993, 500 people worked for their business, Stanford Financial Group.
"Success" and Excess
He received Antiguan citizenship in 1999. The nation knighted him in 2006. At this point, Stanford International Bank Ltd. had opulent offices around the globe with financial advisors whose primary responsibility was to sell certificates of deposits (CDs).
For example, at one point in the early 2000s Stanford International Ltd. offered customers a nearly 10% annual compound interest rate. A typical American bank was providing an equivalent of roughly 3% at the same period.
Spoiler alert: According to later accusations made by the prosecution, Allen Stanford "grossly deceived his 50,000 investors about the amount of professional management they were receiving." He was also charged with using CD proceeds to fund investments in real estate and his own business ventures. He allegedly also used the CD proceeds to pay for his cherished cricket competitions, which we'll explain in a bit.]
The business ran a Stanford Allocation Strategy investment fund in addition to CDs (SAS). In customer presentations, SAS claimed to have generated an average rate of return of roughly 14 percent over a five-year span between 1999 and 2004. The S&P averaged roughly 6% throughout that time.
Stanford International Bank claimed to be handling $50 billion in customer assets as a result of these incredibly alluring rates.
Spoiler alert: Stanford International Bank at its height supervised $8 billion in client deposits. Prosecutors would later allege that roughly $7 billion was wasted on bad investments, Allen's lavish lifestyle and the general operation of a Ponzi scheme – where old clients were paid with new client money.]
Allen Stanford's net wealth peaked at…
$2.2 billion
One infamous tale claims that Stanford paid $12 million to have his yacht extended by six feet.
He was admired by both Antiguan civilians and government because he formerly served as the island's top employer. He received a knighthood from the nation in 2006, as was previously indicated. He insisted on being referred to as "Sir Allen" in official documents and greetings over the following few years.
[Spoiler alert: Sir Allen's knighthood was revoked by Antigua in 2010]
Cricket
Allen had a strange obsession with cricket. He was regarded as cricket's top global promoter. He was so obsessed that he built a cricket stadium on Antigua where he routinely held lavish tournaments. A total of 300 million people watched the 2008 "Stanford 20/20" competition.
Downfall
Early in 2009, Allen Stanford's good fortune came to an end when it became known that the SEC, FBI, and other law enforcement agencies were looking into Stanford Financial Group due to the Stanford International Bank's constant, higher-than-market returns.
A former Stanford executive testified to the SEC that during sales pitches, Stanford presented hypothetical investment returns as historical data.
The FBI conducted a raid on Stanford Financial's offices on February 17, 2009.
The SEC charged Stanford with orchestrating a "massive ongoing fraud". They would eventually claim in court documents that Stanford had defrauded investors of $7 billion.
According to the SEC, Stanford and his collaborators ran a massive Ponzi scheme, stole billions of dollars from investors, and fabricated Stanford International Bank records to conceal their fraud.
The trial for Stanford started in late January 2012. On March 6, following barely three hours of discussion, Stanford was determined to be the scheme's mastermind. Prosecutors called him "a ruthless predator" who "lived a life steeped in deceit." He received a 110-year prison term. Stanford's earliest possible release date is 2105, when he will be 155 years old.
Stanford has consistently insisted that he is innocent. At his sentencing, he blamed his company's failures on "Gestapo tactics" by the SEC and FBI. In 2014, he submitted a 299-page appeal. The argument was turned down.
In an odd turn of events, Stanford University also sued Stanford for trademark infringement. Stanford began asserting that his great-great-great-grandfather was related to Stanford's founder, Leland Stanford, sometime in the early 2000s. He then paid for one of Leland Stanford's residences to be restored. The university eventually was forced to release a statement saying, "We are not aware of any genealogical relationship between Allen Stanford and Leland Stanford." According to the administration, Stanford's use of the school's name was "injurious."
Allen stated that he was penniless in a court document as recently as 2015. Prosecutors believe he is still hiding around $300 million "in a slew of foreign bank accounts."