An Extremely Rare And Valuable Ferrari F40 That Hasn't Been Driven In 29 Years Hits The Auction Block On Sunday
A very rare Ferrari F40 will be auctioned off on October 10. Unlike most 30-year-old supercars this Ferrari has only ever had one owner and has barely been driven.
The Ferrari F40 was probably your first automotive infatuation if you were a guy born between around 1975 and 1985. In your bedroom, there was probably either a poster or a model of the car. , or both! I was born in 1982 and certainly loved the Ferrari F40, but if I'm being honest, my first car obsession was the F40's successor, the F50. I owned both the model and the poster.
The F40 is a stunningly beautiful machine. Introduced in 1988 to celebrate Ferrari's 40th anniversary, it was the first production car to achieve a top speed of over 200 miles per hour and the last Ferrari that was overseen by company founder Enzo Ferrari who died on August 14, 1988.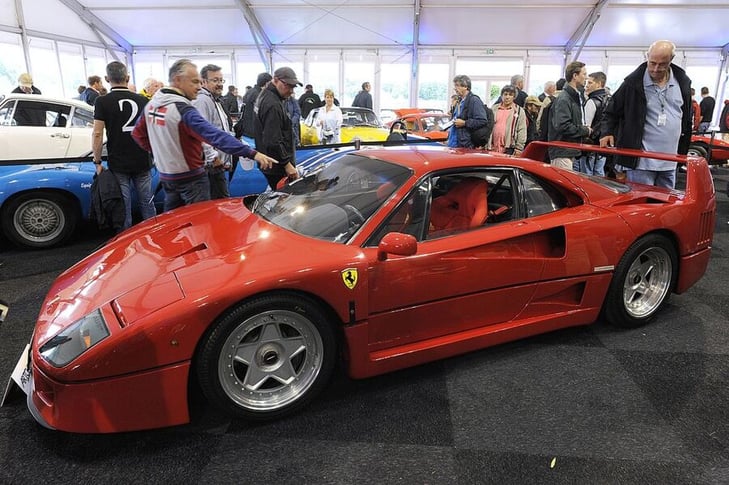 In June 1989, a Belgian auto collector had the resources and chance to put down a deposit on an F40. The car was delivered by a Belgian dealership called Garage Francorchamps to the unnamed collector in December of 1989.
Let's take a brief break right here. How many miles would a Ferrari F40 have now if you bought one in 1989? Although you wouldn't have driven it daily, perhaps you did 2,000 miles a year? If so, the odometer would have around 60,000 miles today.
1,112
How did October 1992 unfold? Did the vehicle become unusable after a collision? Nope. The owner determined that was the final time he would drive his F40 for whatever reason. He then moved to position the vehicle in a cold storage facility. For the next 29 years, the F40 remained idle in that warehouse.
Fortunately this F40, CHASSIS NO. ZFFGJ34B000083620, is about to see the light of day again after nearly three decades. The vehicle will be auctioned off by Bonhams on Sunday, October 10.
The purchasing price ranges from $1.2 to $1.7 million. I genuinely feel that that range is low. For comparison, an F40 with 16,000 miles and various historical owners from July 2021 that had been painted BLUE by one of the most recent owners just sold for $1.4 million.
An totally pristine, one-owner F40 with all the original parts, literature, tires, etc. would have to command a hefty price premium, it stands to reason. On October 10, Sunday, the auction will begin. We'll monitor it and update this post when the final cost is known.
Below you'll find what I consider to be the best F40 YouTube video if you love F40s and want to drool for a while. Beautiful video, audio, and commentary. It's quite dramatic: