After A Month Of Denials, Germany Finally Seized Alisher Usmanov's $800 Million Yacht, "Dilbar"
Alisher Usmanov "indirectly transferred assets" to his sister, according to EU authorities. One of those assets was the now-sized $800 million yacht known as "Dilbar" -the fourth largest yacht in the world.
We followed an initial report, published by Forbes, in stating that Dilbar had been seized by German authorities operating out of Hamburg where the vessel was being maintained at the shipyard of shipbuilder Blohm + Voss. Unfortunately, a few hours after publication, two incidents forced us to go back and modify, explain, or correct several of the article's main claims.
First, agents for the vessel's owner, Russian business magnate Alisher Usmanov, disputed that the yacht had been taken into custody. Secondly, later in the same day, Usmanov's denials were backed-up by a statement released by Germany's Ministry of Economy, a statement that made it clear that the German government had not seized Dilbar.
A few weeks later, Dilbar has really been formally taken over by the German government.
"The BKA has determined through extensive investigations that, despite offshore concealment, the owner of the yacht "Dilbar" is Gulbakhor Ismailova, Alisher Usmanov's sister. The opulent boat Dilbar was subject to sanction law and was formally ordered fixed in Hamburg after it was confirmed by the Ministries of Economy, Foreign Affairs, and Finance that the Russian owner was sanctioned."
They discovered that Alisher had "indirectly transferred assets, including Dilbar," to his sister. Here's a photo of Dilbar in better times, photographed in June 2020 off the coast of England: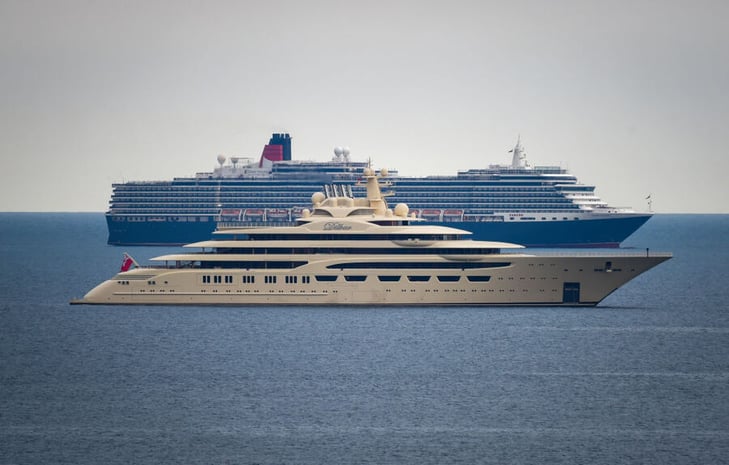 (Image courtesy of Getty Images/Finnbarr Webster)
Here's what Dilbar looked on March 6, and presumably what it still looks like today… only now it's somehow locked or disabled?