A Look At How College Football Salaries Have Grown Over The Past 40 Years
College coaches are now receiving more money than ever thanks to the Power Five conferences, which generate billions of dollars in revenue annually.
College football has undoubtedly developed during the course of the twenty-first century. In fact, it might be more appropriate to argue that the college football industry has grown rapidly. Consider this: The 65 institutions that comprise the ACC, Big 10, Big 12, Pac-12, and SEC leagues collectively bring in $4 billion annually.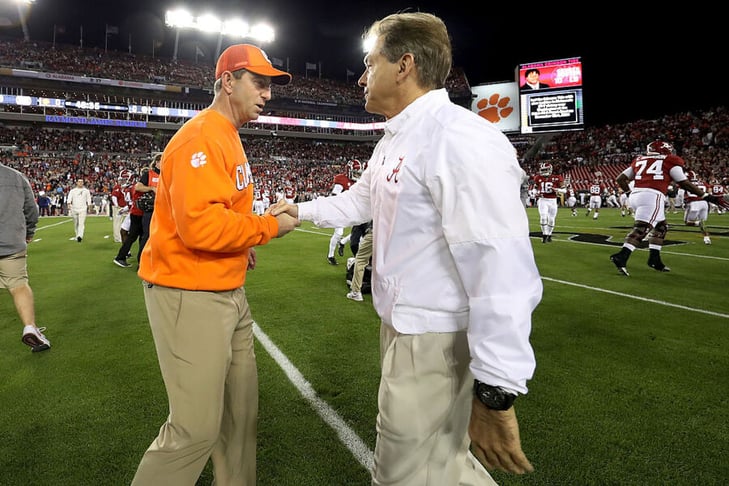 Nick Saban (R) and Dabo Swinney (L) in a handout from Kevin Jairaj for Getty Images
Lincoln Riley earned $7.6 million in 2021 while playing for the Oklahoma Sooners, but the USC Trojans offered him an even bigger pay. Riley's action may have been shrewd on his side, but the wage boost is said to come with benefits including a large mansion in Los Angeles. Riley avoids the punishing schedule of the SEC while expanding his recruiting options on the west coast by moving to the Pac-12 when the Sooners leave the Big 12 to join the SEC.
Alabama's Nick Saban earns $9.9 million (estimated)
Alabama returns to the College Football Playoff for another another season. Alabama, which produced another Heisman Trophy winner in Bryce Young, is still in the running to win another championship despite some inconsistent play throughout the season. Nick Saban agreed to a contract extension that will keep him in Tuscaloosa through 2028, but don't be surprised to see that deal shift as more coaches earn massive contracts. After all, nobody has ever achieved the kind of consistent success that Saban and the Crimson Tide have.
Michigan State's Mel Tucker received $9.5 million.
Mel Tucker, the highest-paid Black coach in NCAA football, signed a $95 million, ten-year contract at Michigan State in November 2021. Although Tucker has only actually had one successful season at Michigan State—finishing that year with an 11-2 record and a Peach Bowl victory—the groundwork for long-term success is already in place (plus, he beat Michigan, which is a pretty big accomplishment in that rivalry). If Tucker is let go without good reason, he will still be paid in full.
Fisher agreed to a $75 million, ten-year contract with the Texas A&M Aggies a few years ago. Fisher will receive $9 million under the terms of an extension that the two parties agreed to in September, making him one of the highest-paid coaches in the country. Fisher has pledged to the Aggies, who have the top recruiting class in the country and have been investing in an improved practice facility and other resources to assist the squad, despite attempts by other schools to recruit him away (most notably LSU).
Stanford's David Shaw — $9 million (estimated)
Clemson's Dabo Swinney earns $8.5 million.
Despite having a below-average year by their standards, Clemson nevertheless concluded the 2021 season with a 10-3 record and a victory in the Cheez-It Bowl. That triumph, Swinney's 150th with the Tigers, cemented the ten-year, $93 million extension the university awarded him in 2019. The particular clause in Swinney's contract that pertains to his departing to coach Alabama makes it special. If he does that, he'll receive an extra $500,000 to $2 million, depending on what year he leaves.
Penn State's James Franklin received $8.5 million.
Ohio State's Ryan Day earned $7.6 million.
Prior to the 2020 campaign, Day entered into a contract that increased his 2022 compensation to $7.6 million. He will remain in Columbus thanks to the contract through the 2026 campaign. The Buckeyes completed the 2021 season on a high note by defeating Utah in the Rose Bowl 48-45 after losing to Michigan and missing out on the chance to return to the College Football Playoff.
These salaries are quite a leap from what top coaches were earning 20 or 40 years ago. But it demonstrates how far the sport has come.
$1 million for Joe Paterno, Penn State
Kansas State's Bill Snyder received $1 million.
$270,000 Barry Switzer, Oklahoma
$240,000 Jackie Sherrill, Texas A&M
Arkansas' Lou Holtz received $226,000
Power 5 conferences taking the lead and Alabama's resurgence at the top are neither surprising nor shocking. Bryant's pay would be equivalent to roughly $1.3 million in today's money, even after accounting for inflation. For coaches in 2022, that sum would be in the middle of the pack.