7 Of The Craziest Deferred-Money Contracts In Sports History
Deferred-money contracts can save teams money now – but they often pay a lot more later. Here are seven of the most bizarre such transactions.
However, teams can occasionally spend carelessly and put themselves in a bind. In those circumstances, they will negotiate with players to postpone all or a portion of the payment on a deal. The deferred payments provide clubs with immediate relief, but they frequently have interest attached, which means they may end up paying significantly more than they would have if the deal had been handled normally.
Bobby Bonilla 
Informally known as Bobby Bonilla Day, July 1 is arguably the most well-known date of them all. In accordance with a 2000 pact, the New York Mets then paid Bonilla $1.19 million. The Mets decided to pay Bonilla his $5.9 million over a 25-year period rather than buy him out for that amount. At an eight percent interest rate, Bonilla will receive $1.19 million every July 1 until 2035, a total of $29.8 million. When he gets his last payout, he'll be 72 years old.
Bruce Sutter
With the Atlanta Braves, Bruce Sutter's career was rather unremarkable. Between the time he joined the team in 1985 and his retirement in 1988, he recorded 40 saves. He did, however, manage to secure himself a lucrative contract at $9.1 million over six years. But Sutter's salary was actually an interest payment on his money, so he earned $750,000 per year over those six years (including 1989 and 1990).
The Braves have given Sutter $1.12 million year since 1990. When Sutter turns 69 years old in 2022, the payments will finally come to an end with a $9.1 million balloon payment. Sutter will receive $47 million in total compensation under the deal.
Chris Davis
Chris Davis was regarded as one of baseball's top power hitters in 2016. He had 164 home runs and 411 RBIs over the previous four seasons, leading the league in home runs in two of those four seasons. He was given a seven-year, $161 million contract by the Orioles, with $42 million being deferred over a 15-year period.
The sole issue? Davis' performance suffered a serious decline. His batting average has never been very high, but his.221 mark in 2016 was the highest since agreeing to the contract. With just 54 home runs over the previous four seasons, including none in 16 games in 2020, his power also declined. He will nevertheless receive $54 million from the Orioles until 2022, $3.5 million each year from 2023 to 2032, and $1.4 million each year from 2033 to 2037. When Davis receives his last payout, he will be 51 years old.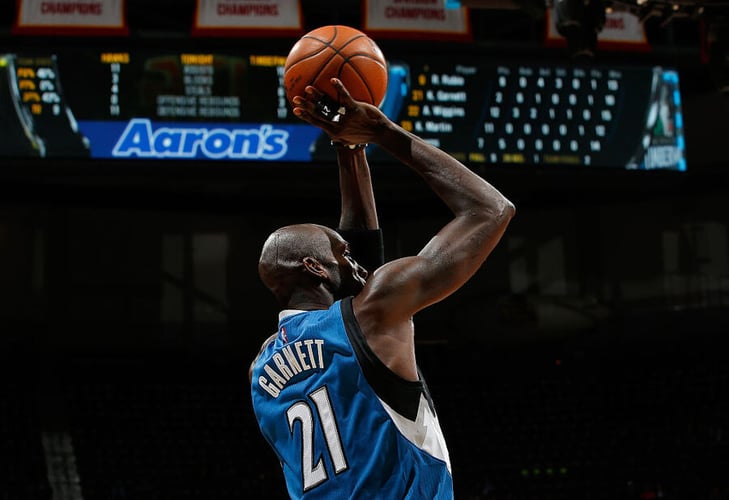 Minnesota Timberwolves' Kevin Garnett (Kevin C. Cox/Getty Images)
Josh Smith
Josh Smith's name came up again when the Los Angeles Clippers blew another 3-1 lead in the playoffs. In Game 6 of the 2015 Western Conference Finals, Smith assisted in the Houston Rockets' comeback. The Clippers, who also that year lost a 3-1 lead, were the target of that comeback.
Unfortunately, Smith's compensation came primarily from another team. He joined the Detroit Pistons in 2013, although he only appeared in 105 games before being released by the franchise. Detroit applied the stretch provision to Smith, which extended the time over which the debt was due. The Pistons paid Smith a "bargain" $5.3 million per year through 2020, only six years after he stopped playing for the team.
Manny Ramirez
Ramirez engaged in several entertaining stunts while playing in the major leagues, such as using the restroom in the bullpen in between innings. The media chalked it up to "Manny Being Manny" – but if that includes getting paid well after you're retired, well, it's good to be Manny.
Ramirez was transferred by the Boston Red Sox to the Los Angeles Dodgers in 2008, but since 2011, the Dodgers have continued to pay him $2 million annually and will do so until 2026. The Dodgers also had to pay Ramirez after he quit playing for them, so maybe that will give the Red Sox some comfort. Ramirez was released by the Dodgers in 2010, but he earned $8.3 million in 2013, $3.3 million in 2011, and $3.3 million in 2012.
Max Scherzer
This deal actually doesn't sound too bad for the Nationals right now. Since 2015, Scherzer has placed among the top five in the Cy Young voting, winning two of them. In 2019, he also helped the Nationals win their first World Series. The salaries from 2019 to 2021 are deferred – instead of $105 million over three years, Scherzer will make $15 million annually from 2022 to 2028.
Kevin Garnett
The fact that The Big Ticket is still earning money even after he has retired may be appropriate given that he has earned more money than any other NBA player in history. Garnett returned to the Minnesota Timberwolves for the 2016–17 campaign and earned $8 million despite playing zero minutes on the court. However, the Timberwolves fared better than the Boston Celtics.
Garnett will receive $5 million from the Celtics each season through 2024 for a total of $35 million. Garnett certainly had a productive run with the Celtics, bringing home a title in 2008 and reaching Game 7 of the NBA Finals in 2010, but it's tough to be paying a player for nearly a decade after his last appearance.