In 1909, James inherited a $26 million (more than $71 million today) fortune from his father, D. Willis James, who transformed the mercantile business Phelps, Dodge & Co into one of the biggest copper mining companies in the world. The family's investment in railroads was began by James Sr.
Arthur James significantly increased the ownership holdings in the railroads after inheriting his father's wealth. He was the largest individual railroad stock owner in the United States. He played a crucial role in the completion of the Great Northern railroad's cross-country route. In fact, he drove the final, golden spike into the ground that completed the railroad track that ran from Chicago to Washington and Oregon and then south to San Francisco.
James purchased a controlling position in the Western Pacific railroad as a result of his strong belief in the promise of California. James' railroad interests eventually reached a fourth of the country. Additionally, he had large assets in copper, silver, and gold mines.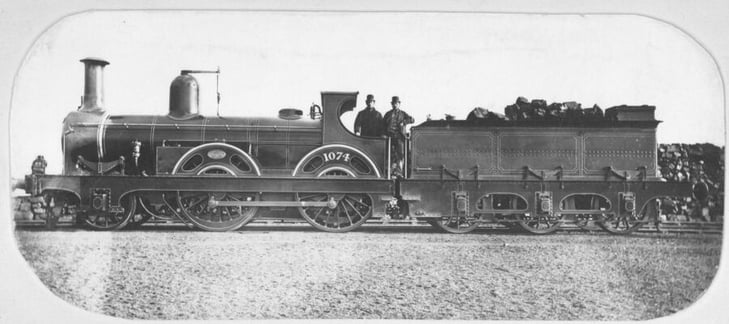 (Image courtesy of Getty Images/Edward Gooch Collection)
James was also a pro at multitasking. He ran several corporations and still found time to sail on one of his three yachts – the 130-foot schooner Coronet, the 160-foot brigantine, and Aloha, a 206-foot sail and steam engine yacht. His most valued item was The Aloha. Large sailing yachts weren't common at the time because steam engines were the preferred choice, but the Aloha was one of the biggest yachts of its day. James sailed the Aloha around the world in 1921 and 1922. In later years, he also frequently sailed the Aloha to Europe. James was the captain of the Aloha and personally oversaw and directed the crew, unlike the majority of large yacht owners who employed professional captains. James kept logbooks on his three yachts, which were subsequently found, and they show that he traveled more than 270,000 miles at sea.
James lived in New York City but sailed to Newport, Rhode Island when he was young and fell in love with the town. Belvoir, a 28-acre home on Newport's Beacon Hill, was purchased by him and his wife Harriet in 1908. The highest point in south Newport is Beacon Hill. To make way for Beacon Hill House, the James family had the house demolished. Over the following few years, James also acquired the surrounding land, resulting in a 125-acre estate. Elsewhere in and around Newport, James developed a model Swiss farm called Surprise Valley on his estate that included homes for relatives and guests, livestock, and vegetable gardens. In addition, he founded the Ida Lewis Yacht Club and purchased a tiny offshore island and lighthouse.
James and Harriet never had children, but Amelia, Harriet's sister, had a daughter who shared her name. James cut their niece Harriet out of his will, reportedly because she was vocal about her distaste for his womanizing and his affairs. He allegedly said to his niece, "I won't leave you with anything. You won't inherit from me."